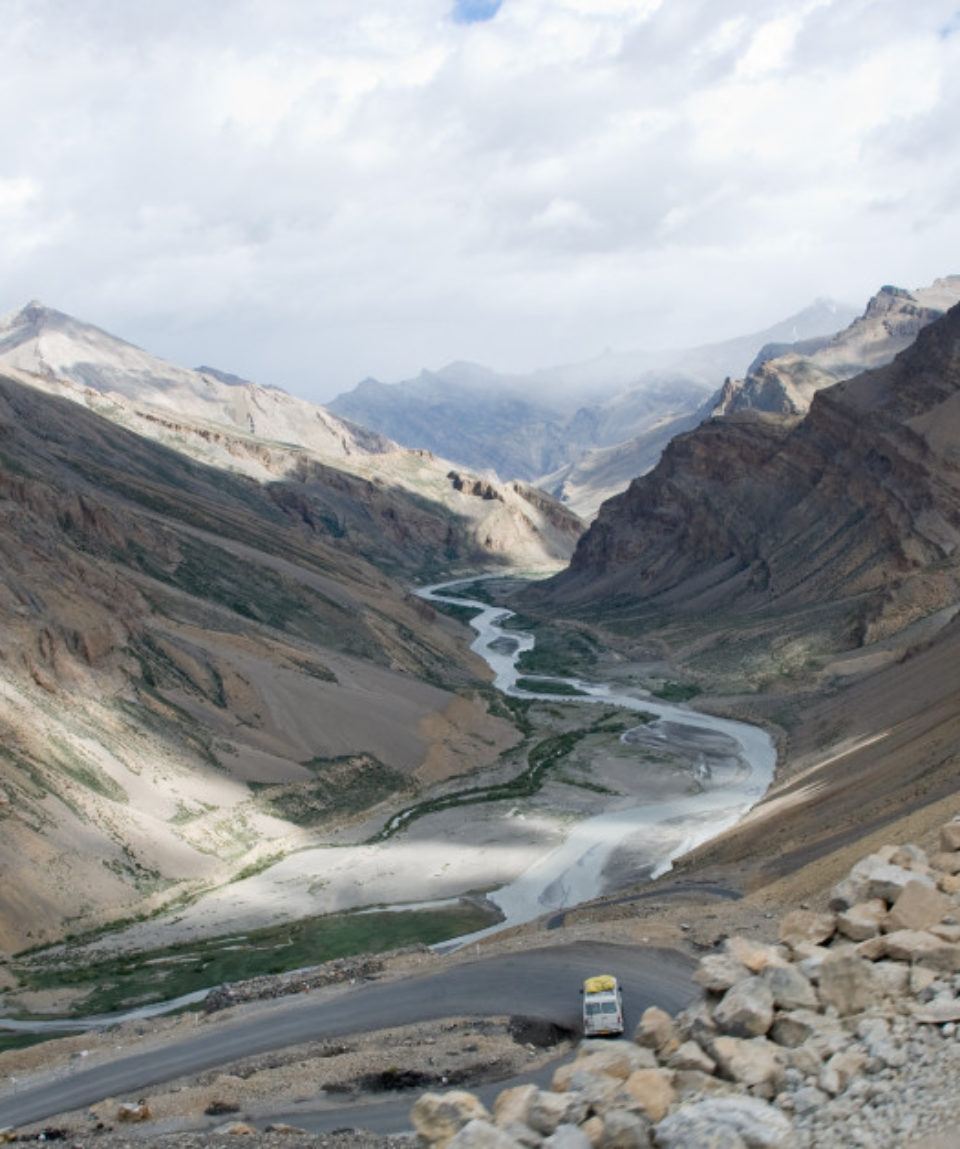 Yunam Peak Expedition
09-Aug-2019 to 17-Aug-2019
Starting from INR 54,900/- per person
Yunam Peak (6110 Mts.) is located near Baralacha pass on the border of Himachal Pradesh & Jammu & Kashmir states. The Yunam peak expedition base camp is just a few kilometers from Baralachha Pass on Manali Leh highway. A soaring presence in the Lahaul-Spiti locale, the Yunam Peak is not entirely unknown to those who have travelled by the Leh – Manali highway, though it is not as frequently climbed as the Stok and other peaks of the same club. The summit of Yunam has a great vantage point for an outstanding view of the C.B. (Chandra Bhaga) Range and Mulkilla Range, and this is just one of the reasons to scale the peak.
Vacation Style Holiday Type
All about the Yunam Peak Expedition.
HIGHLIGHTS:
The Panoramic view of C.B. Range & Mulkilla range.
Rare, six thousand meter non-technical trekkable peak.
FACTFILE:
Type of Tour: Treks & Walks
Grade: Tough
Maximum Altitude : 6110m/20,045 ft.
Tour Duration: 10 Nights
Trek Duration: 05 Nights/06 Days
Tour Date: 09-Aug-2019 to 17-Aug-2019.
Ex-Destination: Manali
Reporting Time & Venue :  08:00 hrs at Manali bus depot
Dispersal Time and Venue : 14:00 hrs at Manali bus depot.
Accommodation (Nights) : Hotel – 04, Camping – 05
Food Plan: All meals including Lunch on day 01 to breakfast on day 10.
Travel & Transport: Transfers and sightseeing in SUV/MUV.
Requisite Group Size : 08 pax.
Day 1

Arrival in Manali; Drive to Solang (2560m/8400 ft.; 13 km; ½ hrs)

Arrival in Manali. Pickup from HPTDC Bus Stand, travel to Solang / Manali hotel. Dinner and overnight stay in hotel at Solang.

Day 2

Solang – Acclimatization day; Excursion to Patalsu Base Camp & back (7 - 8 hrs round trip)

Solang village is 30 – 45 min walk/climb one way from Hotel (Solang). The base of Mt. Patalsu is approx. at a height of 11,500 ft. and another 3 hrs from Solang village. Mt. Patalsu top is 4500m/14,765 ft. Dinner and overnight stay at hotel in Solang.

Day 3

Solang - Jispa (3200m/10,500 ft.; 144 km; 6-7 hrs)

Post an early breakfast we hit the road soon the lush green Kullu valley gives way to bushes and smaller plants as we cross the tree line and reach the famous Rohtang Pass at 3978m/13,050 ft. the entry to the Lahaul Valley. At Rohtang we walk around and acclimatize by taking a photography break at the zero point. Now the descent to Lahaul valley begins. The windward side changes to the lee ward side and the shift in landscape is dramatic. Green is replaced by barren hillsides and we pass fields of barley, peas and potatoes. From Koksar we drive along the Chandra River and pass the beautiful hamlets of Sissu and Gondla. Tandi is situated at the confluence of Chandra & Bhaga Rivers. Dinner and overnight stay in hotel at Jispa.

Day 4

Jispa to Bharatpur (4500m/14,763ft; 58 km; 3 – 4 hrs)

After breakfast drive 58 km, 3 hours to Bhartpur. Here you can see origin of Chandra and Bhaga rivers and the Chandrabhaga mountain ranges.  At 4500m, Bharatpur is a windy cold desert rest point with a sparse locality which remains open only during season time.

We will try to make a few short stopovers on this four-hour long journey—first at lakes Deepak Tal and Suraj, both mesmerizingly beautiful and of the colour sapphire, reflecting the skies and the mountains on a clear day. Suraj Tal is also recognized as the source of the Bhaga river which joins with river Chandra at Tandi, crossed earlier and becomes Chandrabhaga in the Himachal and flows as Chenab after entering J&K. On passage, we will cross Baralacha La- the highest motorable mountain pass.

Here, you can find stores for tenting equipment, trekking gears, and many delightful Dhabas. A special delicacy available in Bharatpur's eateries is the flavorsome "butter tea". This region also the starting point for Baralacha La trekking. The night's stay will be in tents at Bharatpur.

Day 5

Acclimatization day in Bharatpur (4500m/14,763ft)

Today we will gradually ascend from Bharatpur, the trail continues to the snow line. Here we will do some training on snow and ice. Come back to camp for lunch.

At this juncture, the massive altitude gain will start showing its colours. Mild headache, nausea, and loss of appetite is common. Therefore, day 4 is kept entirely for adjusting to the climate and let the body tune to the thinning air and temperature hitting the lows. A lot of fluid intake is highly recommended for today, along with a little load carrying exercise (though heavy exhaustion is not advisable) and walk around in the barren landscape. Overnight at Bharatpur camp.

Day 6

Bharatpur to Base camp (5200m / 17,060 ft.; 4.5 km; 4-5 hrs)

Today's trek will be a challenge with 4.5 km of steep climb on a gradually gaining ascent curve. Trek time can span a little over 5 hours. The boulder and moraine laden path will make inexperienced climbers prone to slipping. After one particular turn, the trek will continue along a water stream. After evening tea, we will go for an acclimatization walk.

Base camp is expected to be reached by mid noon. Small lakes in this location make for a picturesque setting. a sound sleep must be ensured for tonight. Overnight in Camping.

Day 7

Acclimatization at Base camp (5200m / 17,060 ft.)

This day is entirely kept for practicing the summit walk and also to get along with the surrounding and atmosphere. Today we will exercise ascending and descending on snow. Trek leader shall train you about the climb for next day's summit and also about the challenges one may face during summit. Emphasis on physical fitness shall be more during the training and practice session. Come back to camp for lunch. Early dinner and enough rest required as we shall begin our summit by 3 am. Overnight in camping

Day 8

Summit attempt and back to Base camp. (6110m / 20,045 ft; 8-9 hrs)

THE day! Wake up early in the morning and get ready for the climb up to the summit. It is best to be up at the summit early in the morning to make the best of the weather and get a chance to see some of the great scenes. After munching something, we start climbing the peak. It's going to be 8-9 hours of walk today. While on trek, one is expected to feel spine chilling, numbing cold wind and bit of breathing difficulties at this height. Keep yourself hydrated with lots of fluid this day. Reaching the summit is going to be taxing and demanding. After reaching the summit, the view from top is magnificent, which will be followed by prayers and picture on top of the peak, we descend to Base camp.

Day 9

Base Camp to Bharatpur (4 – 5 hrs); Drive to Solang (189 km; 7-8 hrs) .

After breakfast we start our descend to Bharatpur, to reach road head we may take 2 hrs and further 175 km drive to Solang. Overnight at Solang hotel.

Day 10

Drive Solang – Manali; Final departure.

Post breakfast we drive to Manali for final departure.
Accommodation (Nights) : Hotel – 04, Camping – 05
The tour package inclusions and exclusions at a glance.
Accommodation:
Solang & Jispa: In a hotel on twin sharing basis.
On the Trek: In small camping tents on twin sharing basis.
Food:
All meals including dinner on day 01 to breakfast on day 10.
Travel:
Transfer and sightseeing in SUV/MUV.
 Others:
Complimentary Duffel Bag, Sack & Cap.
Local guide on the trek.
All camping arrangements & trekking equipment's
Necessary porterage and camping equipment for the trek.
One experienced Tour Leader from "Countryside Adventure Holidays Pvt."
Goods & Service Tax as applicable.
Travel to & from Manali.
Any expenses of personal nature such as mineral water, laundry, liquor, etc.
Any kind of insurance such as accident, theft, medical, evacuation, etc.
Tips to driver, guide, hotel staff, etc.
Any extra costs incurred due to extension/change of the itinerary because of natural calamities, flight delays, road blocks, vehicle breakdown etc. factors beyond the control of "Countryside Adventure Holidays Pvt. Ltd." and its associates.
Items not specified in "Cost Includes".
We can customize a similar tour to suit your requirements or for independent small groups you can check our packages.
It is not necessary to have any climbing experience to undertake this tour. However, it would be necessary to have exposure of high-altitude trekking. Knowledge and use of climbing gear will enhance your enjoyment and comfort on the trek. Although we will provide you support and guidance needed for the climb.
It's mandatory that all the participants carry a valid photo id., (Driving License, Voter Id., Passport or Adhar Card) for issuance of permits and 02 passport size photographs.
By Air: The closest airport is Bhuntar, 10 kms from Kullu and 50 kms from Manali. There is also an option of taking a flight to Chandigarh, 272 kms from Manali.
By Road: Delhi – Manali is at a distance of 595 kms. There are Semi Sleeper AC Volvo coaches that operate on this route (Operated by HP Tourism and HRTC)
If the client wishes to hire a porter so that he can walk along with him, then an extra porter can be arranged on the spot for which the client must make an extra payment. The cost for an extra porter will be INR 800/-per day.
Day temperatures average between 15ºC – 20ºC and night temperatures can drop to below 5ºC. However, the temperatures would vary a lot depending on the season and altitude.
This trek is a high altitude trek and the maximum height gain will be approx. 3277m. Acute mountain sickness (AMS) can be caused due to high altitudes. The AMS may be avoided by taking precautions given in the document attached on high altitudes, please read the document carefully. The high altitude can cause Acute Mountain Sickness and may lead to serious critical medical conditions such as cerebral or pulmonary edema.
The weather can change dramatically causing rain, thunder storm, flash floods, cloud burst, snow fall and severe drop in temperatures, causing severe physical hardships.
Sleeping bag and Feather jackets can be hired on written request in advance atleast 10 days prior to date of reporting. The same will be provided on arrival at reporting hotel. Rentals for Sleeping Bag & Feather Jacket is INR 100/- per day each plus INR 100/- each for laundry.