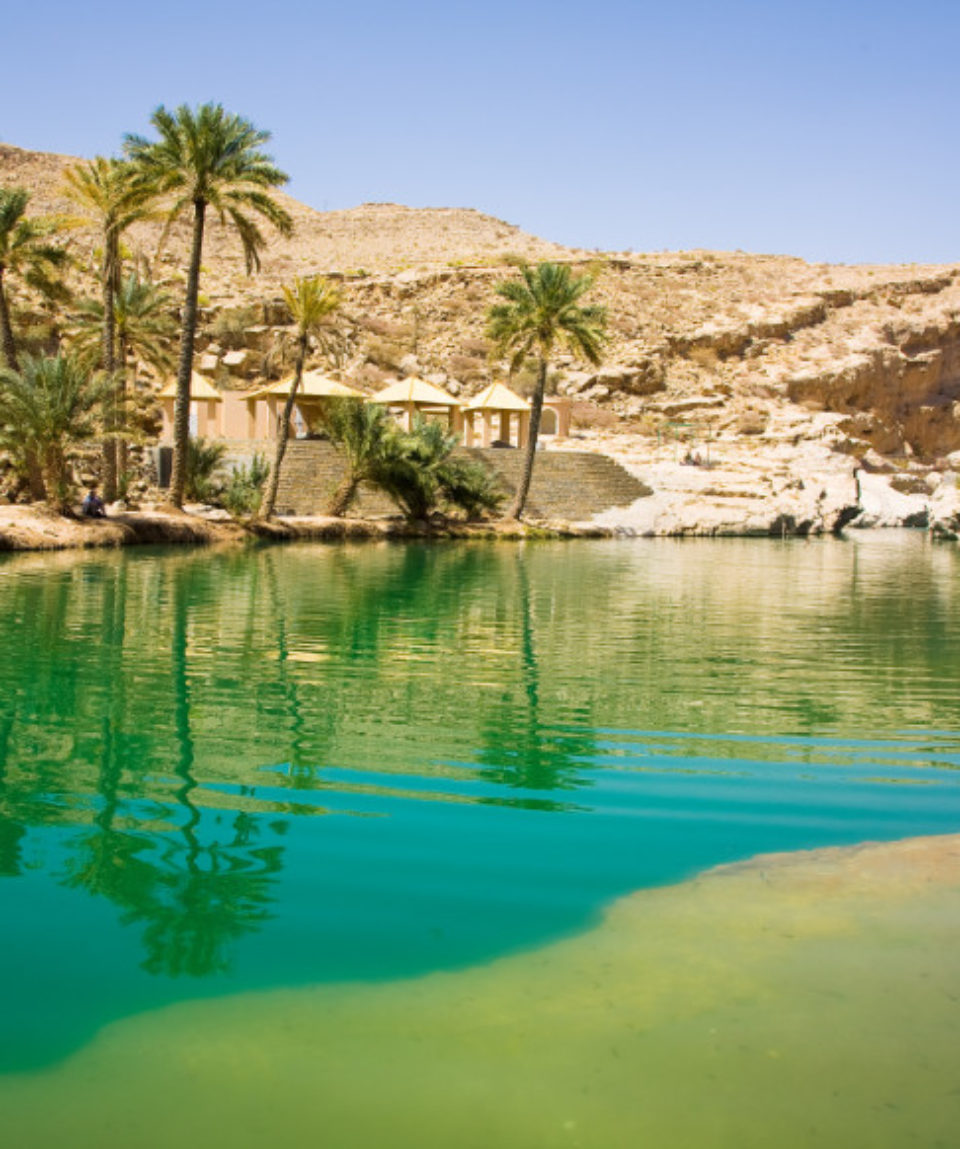 Flavours of Oman
Starting from USD 865/- per person
Oman, oldest of the Gulf States, is a land of dramatic contrasts. It is the home & port of the famous adventurer, Sinbad the Sailor. So it is no wonder that the sultanate has such an abundance of hidden treasure – from the grand forts, exquisite palaces and mystical souqs (markets) to the undulating dunes, mountains, fresh water wadis & miles upon miles of unspoiled sandy beaches. Ancient Arabic culture and tradition sit side by side with a modern infrastructure.
Vacation Style Holiday Type
All about the Flavours of Oman.
HIGHLIGHTS:
Stunning Natural Landscapes with fresh water wadis.
Chic, Charming & extremely clean White Sandy beaches.
Modern & Ancient Arabian Architecture.
FACT FILE:
Type of Tour: Family Adventure
Grade: Soft+
Tour Duration: 05 Nights
Tour Date: 16-Mar-2019 to 21-Mar-2019
Ex-Destination: Muscat
Accommodation (Nights) : Hotels – 03; Campsite – 02
Food Plan: Muscat – Breakfast only; Sur – Breakfast & Lunch Only; Wahiba Sands & Jabal Shams – All meals
Travel & Transport: Transfers & Sightseeing in A/C 4WD.
Requisite Group Size: 15 pax.
Day 1

Arrival in Muscat

Meet & assist at Muscat International Airport & transfer to Hotel in city. Overnight stay at Hotel in Muscat.

Day 2

Half Day Muscat city tour

Breakfast at the hotel. Proceed for Half day Muscat city tour. On this tour, you will begin with a visit to the Grand Mosque, an erection of architectural magnificence and a religious landmark of serenity. A must visit for all tourists; the Mosque is open for viewing from 8-11 am, except on Fridays. Your next stop will be at scenic Muttrah, where you will stroll through lush stalls of fish and vegetables, laid out generously at the local market. You then proceed to the city's exquisite Muttrah Souq, famous for its assortment of tiny shops that sell exclusive embellishments and miniature relics of Omani art, tradition, and culture. A perfect blend of ancient and modern, this souq area gives you in right proportions, the sightings, fragrances and resonance of Oman. You then drive past the Corniche and the capital area, which will lead you to your next halt at the Sultan's Palace, fringed by the Portuguese forts – Jalali and Mirani. The Bait Al Zubair Museum visit is next on the list, waiting to give you a glimpse of Omani history and culture. Your tour ends here.

Please Note: Men and women are requested to kindly wear appropriate clothing that covers their arms and legs completely. Ladies will also need to conceal their head with a scarf.

Return back to hotel by noon. Rest of the day at leisure. Overnight in Muscat. (Grand Mosque visit not possible on Friday).

Day 3

Muscat – Sur (202 Kms;3.5 hrs approx )

After breakfast check out & proceed to Sur. From Muscat, visitors reach Quriyat, a small coastal fishing village and proceed to Tiwi and Fins where a beautiful white sandy beach beckons for a relaxing swim. On the way visit Bima Sink hole. The journey then continues on the graded track to Wadi Shab, one of Oman's most spectacular wadis, flowing with fresh water most of the year alongside banana plantations and rocky paths. Onwards visit Wadi Tiwi & fins beach. The drive along the coastal road takes visitors to Sur and Ras Al Hadd where an overnight stay is arranged. After dinner, visitors drive to Ras al Jynz, a protected Green turtle nesting reserve. During the nesting season, turtles can be seen laying eggs at night. Overnight in Sur.

Day 4

Sur - Wahiba sands (125 km; 2 hrs approx)

After Breakfast at the hotel. Check out & proceed to Wahiba Sands. Wahiba Sands is one of the most fascinating and mysterious deserts in the Arab Gulf region. Depart to Al Wasil, beginning the overnight journey to the Wahiba Sands, which is also home to a few thousand Bedouins, who are known to have inhabited this inhospitable region for at least 7000 years. On arrival at the campsite, guests are welcomed by Bedouins, serving Omani coffee, fresh fruit, and mineral water. Skilled drivers will then take guests for exciting dune drive. During the night, enjoy moonlit dinner at the camp under millions of twinkling stars. A dune drive or camel ride offers a unique desert experience. Dinner & overnight in Wahiba Sands.

Day 5

Wahiba - Jabal Shams (285 km; 4-5 hrs approx)

Early morning, enjoy sunrise in the desert and capture the scenic beauty in camera. After breakfast in the camp, check out & proceed to Wadi Bani Khalid, the evergreen wadi adorned with cascading water, forming a turquoise green pool, ideal for swimming. Onwards proceed to Jabal Shams. Arrive Jabal shams. Enjoy half day trekking. Dinner & overnight in Jabal Shams.

Day 6

Jabal Shams – Nizwa – Muscat (245 kms;4.5 hrs)

Breakfast at the hotel. Check out & proceed for a Nizwa city tour. This tour will give you a quick glance into Oman's history, while you're driving all the way through the Sumali Gap, which separates the Eastern Hajars from the West. You will then head onto the old capital of Oman, Nizwa, and visit the illustrious silver souq and spherical fort. Your next stop will be at the pottery capital of Oman – Bahla. In this mysterious town, you will see the famous Loam Fort. Bahla has been listed one among UNESCO's heritage sites for its cultural significance. You will then continue your tour to Jabrin Fort, which is one of the most significant forts in Oman comprising dungeons, hidden passage routes, and  picturesquely painted ceilings.

Onwards proceed to Muscat airport for your flight back home. (Note: Visit of Jabrin Castle will not be possible on a Friday)
Accommodation (Nights) : Hotels – 03; Campsite – 02
The tour package inclusions and exclusions at a glance.
Cost includes
1. Accommodation & Food:
• Muscat, Sur & – In a hotel on twin sharing basis
• Wahiba Sands & Jabal Shams – In a Deluxe Tented campsite on twin sharing basis.
2. Travel: All transfers & sightseeing in a private A/C vehicle.
3. Others:
• All the Transfers & tours mentioned in the itinerary from by air-conditioned coaster bus.
• Services of English speaking guide.
• Water during the tour. – 2 small bottle of water per person per day.
• Turtle watching tickets, Entrance to Bait Al Zubiar Musuem, Nizwa Fort & Jabreen castle.
• Trekking guide in Jabal Shams.
• 4×4 shuttle services in the Wahiba Sands & Jabal Shams.
• Daily breakfast.
• Entrance fee to tourist spots.
• One experienced tour leader from Countryside Adventure Holidays.
• Goods & Service Tax as applicable.
• Travel to & from Muscat and international airport tax.
• Visa Fees
• Camera fees.
• Meals other than those mentioned in "Cost Includes" above.
• Camel Rides in the desert
• Dolphin watching
• Car is not at disposal.
• Any expenses of personal nature such as mineral water, laundry, liquor, etc.
• Any kind of insurance such as accident, theft, medical, evacuation, etc.
• Tips to hotel staff, drivers, guides, etc.
• Any extra costs incurred due to extension/change of the itinerary because of natural calamities, flight delays, road
blocks, vehicle breakdown etc. factors beyond the control of "Countryside Adventure Holidays Pvt. Ltd." and its
associates.
• Items not specified in the above in "Cost Includes".
We can customize a similar tour to suit your requirements or for independent small groups you can check our
packages.
Indigo, Jet Airways, Air India & Oman Air operate daily non-stop flights to Muscat. Most of these flights operate during night.
To arrange for the transfers, we need a written intimation by mail on mail to: info@contrysideindia.com along with your departure flight details such as Flight No., Airline Name, Arrival Time and Tour Name, should reach us at least 10 days prior to the date of reporting.
• Omani visa generally takes 10 working days and is arranged by our Omani associates.
Tourist Visa to visit Sultanate of Oman.
USD 40.00 (Including OK to board charges)
For Oman Tourist Visa following documents required to process the visas.
• Clear scanned passport copies
• Passport should be valid for 06 months
• Pass port size photograph in blue background
• Mother's name
Oman Visa Upon arrival: Can be obtained if guest is holding min 6 month valid visa of USA, UK & Schengen. It costs OMR 20 per person to be paid at Oman Airport.
Baggage allowance is as per the flight chosen.
Small Backpack and Cap, or complimentary coupon will be provided by Countryside.
Day temperatures average between 25ºC – 30ºC and night temperatures can average between 15ºC – 20ºC (Nov – Mar). Rest of the months Oman is hot.
It is important to purchase a comprehensive travel insurance policy.
Local laws reflect the fact that Oman is an Islamic country. You should respect local traditions, customs, laws and religions at all times and be aware of your actions to ensure that they don't offend, especially during the holy month of Ramadan or if you intend to visit religious areas. Women should dress modestly in public areas. Clothes should cover the tops of the arms and legs. You should not wear swimming attire in public areas, except on tourist beaches or swimming pools. Women wearing shorts, or tight-fitting clothes, are likely to attract attention.
Hobbies that involve cameras and binoculars like bird watching and plane spotting may be misunderstood – particularly if you are near military sites, government buildings and airports.
The use of bad language, rude gestures or public displays of affection may get you into trouble with the police.
Carry a copy of your passport, at all times for identification and keep the original document in a safe place.
The penalties for drug trafficking, smuggling and possession, of even residual amounts, of drugs are severe. In some cases, the death penalty could apply. There is no distinction in Omani law between 'soft' and 'hard' drugs; both are treated with equal severity.
It is an offence to drink or be drunk, in public. The legal age for drinking alcohol is 21.