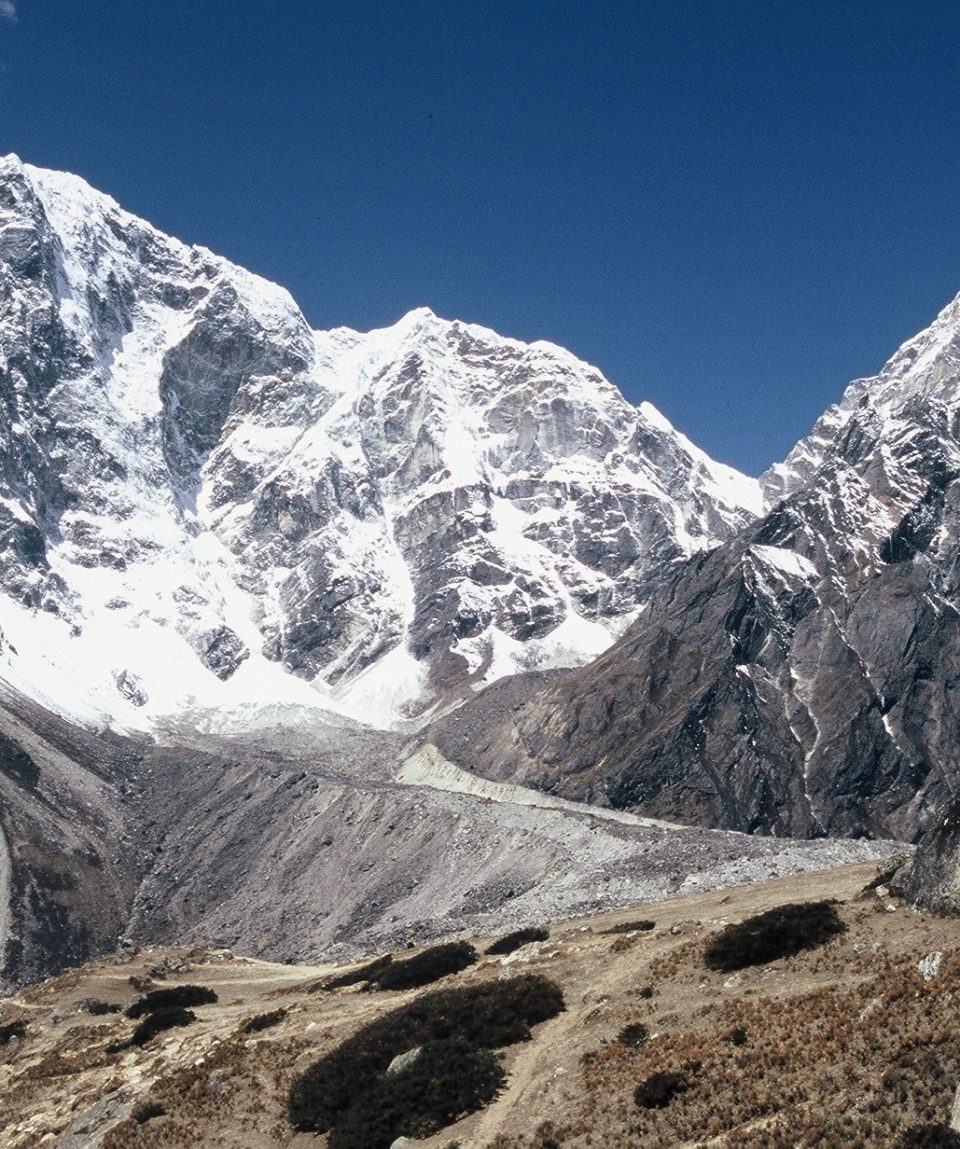 Langtang – Helambu Trek
March – May & September – November
The Langtang Trek is to the north of the valley of Kathmandu. It is a narrow valley that lies just south of the Tibet border and is sandwiched between the main Himalayan ranges to the north and slightly lowers range of snowy peaks to the south. Langtang Lirung (7246m) dominates the valley to the north; Gang Chhenpo (6388m) and Naya Kangri (5846m) lie to the south; and Dorji Lakpa (6966m) towards the east end of the valley. On this trek we walk through some of the most beautiful forests of oak, birch and hemlock; enjoy the breath taking views from Kyanjin Ri, visit the holy lake of Gosaikund and enjoy the bakery products & cheese at Sing Gompa…
Vacation Style Holiday Type
All about the Langtang – Helambu Trek.
HIGHLIGHTS:
The fabulous views from Kyanjin Ri
Visit to the holy Gosaikund Lake.
The views from Laurebina Pass.
FACT FILE:
Type of Tour : Treks & Walks
Grade : Moderate
Maximum Altitude : 4610m/15,125 ft.
Tour Duration : 16 Nights
Trek Duration : 13 Nights/14 Days
Best Season : Mar – May & Sep. – Nov.
Accommodation (Nights) : Hotel – 03; Guesthouse (Tea House) – 13.
Food Plan : Kathmandu – Bed & Breakfast Basis; On Trek – All meals included.
Travel & Transport : Trek transfers in small vehicles/coach.
The tour package inclusions and exclusions at a glance
What is included in this tour?
Items that are included in the cost of tour price.
Food:
Kathmandu – Bed & Breakfast Basis; On the Trek – All meals included (B,L,D)
Travel:
Trek and other internal transfers in small vehicles/coach.
Others:
Langtang National Park fees.
Trekking Information Management Service (TIMS) fees.
Services of a Trek Guide for the entire duration of trek
Local guide on the trek.
Whats not included in this tour?
Items that are not included in the cost of tour price.
Goods & Service Tax as applicable.
Travel to & from Kathmandu.
Any expenses of personal nature such as mineral water, laundry, liquor, etc.
Any kind of insurance; such as accident, theft, medical, evacuation, etc.
Tips to porters, Sherpa team, driver, guide, etc.
Any extra costs incurred due extension/change of the itinerary, because of natural calamities, flight delays/cancellations, road blocks, vehicle breakdown, etc. factors beyond the control of "Countryside Adventure Holidays Pvt. Ltd." and its associates.
Items not specified in the above in "Cost Includes".
We can customize a similar tour to suit your requirements or if you are an independent traveller you can check our Countryside Fixed Departures.
Day 1

Arrival in Kathmandu (1337m/4387 ft.)

Report at the Hotel in Kathmandu from 13.00 hrs to 16.00 hrs. In the evening at 17.00 hrs the group assembles for a briefing about the trek and an orientation program, approx. 1 hr. Post the briefing you can walk through the small lanes and by-lanes of Thamel. You get a fair idea of the nature of this crazy city where the adventure seekers, travelers, trekkers, tourists, political activists are juxtaposed against the grace of an old Nepal. Overnight stay at hotel in Kathmandu.

Day 2

Drive to Syabrubesi (1470m/4823 ft.; 7 hrs)

Drive from Kathmandu to Syabrubesi. It is now possible to drive further on from Dunche to Syabrubesi with the construction of a road and after crossing the suspension bridge before the village, arrive at Syabrubesi, a Tamang Tribesman village that also has a Tibetan Camp and a monastery. Dinner and overnight stay at guesthouse in Syabrubesi.

Day 3

Trek Starts: Syabrubesi - Lama Hotel (2480m/8137 ft.; 6-7 hrs)

Follow the left bank of the Bhote Koshi for about 15 minutes and then enter a narrow path to the right of the route that leads to Tibet. We hike past a Police Post and cross over a suspension bridge over the Bhote Kosi. We have an option of 2 routes. The higher route is via Khangjum (2290m/7514 ft.), Syarpagaon (2600m/8531 ft.) meeting the lower route at Renche village. So if you decide to take the higher route then the ascent is of approx. 1130m in a day. The lower route gradually climbs up via the following villages: old Syabrubesi, Doman (1672m/5486 ft.), Pairo (1800m/5906 ft.), Bamboo (1930m/6332 ft.), Renche (2400m/7874 ft.) eventually heading to Lama Hotel. On the lower route the climb is of approx. 1010m. So any route you take the climb of 1000 plus meters, is required. Dinner and overnight stay at guesthouse in Lama Hotel.

Day 4

Lama Hotel - Langtang (3430m/11,254 ft.; 5-6 hrs)

Enter a forested area from which you occasionally catch glimpses of LangtangLirung through gaps in the trees. It is more a gentle ascent but at places there are some very steep ascents during which the elevation gradually increases. After an hour's trek the trail crosses to the north bank of the river and climbs steeply for an hour up through the Langtang gorge before the ascent eases and the valley widens out into an area of fir and rhododendron. Pass Gumanchowk (2770m/9088 ft.) by the riverside, which has one hotel. Climb a short steep hill from the river path and the valley widens and soon arrives at Ghora Tabela (2970m/9745 ft.). Ghora Tabela lies near the end of the main forest area where an army post is located. We shall stop for lunch here. From Ghora Tabela, we cut through the cultivated fields which dot the landscape and after a short while, cross a steep hill. The forested zone ends and now follows a gently sloping path amid low shrubs to emerge to grassy fields. The Village of Langtang appears with the outline of Ghenge Liru (6381m) and Langtang Liru (7246m) behind it. Climb the gently rising grassy area and pass below a monastery to enter Langtang, a large Sherpa village, where the houses are enclosed by stonewalls. Dinner and overnight stay at guesthouse in Langtang.

Day 5

Langtang –Kyangjin Gompa (3860m/12,665 ft; 2-3 hrs)

Set out through the village and after a short climb arrive at a Chorten. From this point there is an amazingly long 'Mani' stonewall, which is truly a memorable sight. Continue along a gently sloping path atop terraced hills and after passing two villages the valley widens and becomes U – shaped. The trail enters a level, dry riverbed and after crossing the flow from the Lirung Glacier, visible on the left side are the Kimshung (6781m) and Yansa Tsenji (6575m). Cross an old lateral moraine and arrive at Kyanjin Gompa. Out here there is a Government rest house, cheese factory and a monastery. A half day excursion to Kyanjin Ri (4600m/15,092 ft.) is recommended, the 180-degree views of the mountains at eye-to-eye level, is simply breathtaking. Dinner and overnight stay at guesthouse in Kyanjin Gompa.

Day 6

Hike to Kyangjin Ri viewpoint (4600m/15,092 ft; 2-3 hrs)

There are two superb high viewpoints in the area you can climb. To the northeast of Kyanjin Gompa is the Kyanjin Ri Viewpoint (4600m) – a half-day return climb. Head northeast from Lodges and traverse the slopes below the viewpoint to reach the chorten and prayer flag. Dinner and overnight stay at guesthouse at Kyangjin Gompa.

Day 7

Kyanjin Gompa - Lama Hotel (4-5 hrs)

Backtrack to Lama Hotel. Dinner & overnight stay at guesthouse in Lama Hotel.

Day 8

Lama Hotel – Thulo Syabru (2260m/7415 ft; 5-6 hrs)

Post breakfast, trek back through the forest till Pairo. A little further from here the path bifurcates where the straight one leads to Syabrubesi (from where we started our trek) and the one on the left climbs steeply up switch backs to U Kyang where there is a single tea shop. One can see Thulo Syabru on the ridge across the valley. From here we climb a little further and go down to the river to cross a suspension bridge and once again climb upto Thulo Syabru. The village is set on the side of the ridge. The views are good. Dinner and overnight at guesthouse in Thulo Syabru.

Day 9

Thulo Syabru - Sing Gompa (3330m/10,926 ft.; 4-5 hrs)

A hard morning trek up the hill immediately behind Thulo Syabru leads to a ridgeline offering views north into Tibet & west towards Annapurna. Enroute we cross the Dursagang village (2735m/8974 ft.). From here, a further steep climb through forest of Hemlocks and oaks past and ancient chorten and further through rhododendrons we come up to the ridge of Phoprang Danda (3190m/10,466 ft.). The views of Ganesh Himals from here are fabulous. We break for lunch. The afternoon walk contours through ancient hemlock and rhododendron forest to the little settlement of Sing Gompa. Dinner and overnight stay at guesthouse in Sing Gompa.

Day 10

Sing Gompa - Laurebina Yak (3920m/12861 ft; 2-3 hrs)

The trail climbs steeply up a ridge that marks a transition zone between rich, moist mountain forest on the northern slopes and dry scrub vegetation on the slopes that face south. Remember to look back for views of the village framed by the snowcapped Ganesh Himal. The trail crosses behind the ridge and stays in deep forests for a while, then emerges onto a saddle at Chalang Pati (3550m). As the trail ascends, there are outstanding views of across the Langtang Valley to Langtang Lirung. Dinner and overnight stay at guesthouse in Laurebina Yak.

Day 11

Laurebina Yak - Gosainkund (4400m/14436 ft; 2-3 hrs)

The trail ascends, now in alpine country above the treeline, up the ridge to a small concrete temple with a statue of Sakayamuni (45 minutes). Continue to goths for views of the waterfalls from the first of the lakes, Saraswati Kund, and the Indian Pilgrim trails that lead here from the south. The trail leaves the ridge and heads high above the Trisuli Valley.

The trails climbs gently but continuously to a spur marked prayer flags and two rock carvings  of Ganesh, as the second lake in the chain, Bhairav Kund, comes into the view. It's a further 35 minutes to the third largest lake, Gosainkund (4400m). Dinner and overnight stay at guesthouse at Gosaikund.

Day 12

Gosaikund - Laurebina Pass – Gopte (3440m/11286 ft; 7-8 hrs)

The trail traverses the north side of Gosainkund Lake and climbs on a rocky trail marked with cairns towards the pass. Passing three more small lakes, the trail finally reaches Laurebina La (4610m) after about 90 minutes. From the pass, the trail descends alongside a stream through alpine country for 45 minutes to Bera Goth. This is direct route to Tharepati.

Follow the lower, safer trail along a rough, knee-busting route that descends for an hour down in the middle of the Valley to Phedi (3740m), three hours from Gosainkund. From Phedi the route drops to a stream then climbs through scrub bamboo to a crest at (3750m).

The trail descends for an hour through forests, climbing in and out of ravines below the towering cliffs of Thare Danda. On one of the ridges look for some Prayer flags; just beyond this is Gopte. Dinner and overnight stay guesthouse at Gopte.

Day 13

Gopte – Tharepatti – Gul Bhanjyang (2140m/7021 ft; 7-8 hrs)

Descending from the ridge at Gopte, the trail makes numerous ups and down across ravines and the boulders of old moraines, then makes a final ascent to Therepati (3640 m), on a windy ridge. Here, the trail joins the Helambu circuit. Dinner and overnight stay at huesthouse at Gul Bhanjyang.

Day 14

Gul Bhanjyang - Chisopani (2215m/7268 ft; 5-6 hrs)

If you pressed on from Tharepati to Khutumsang on Day 5, you might be able to get all the way to Kathmandu in a day, but the view of the Himalaya from Chisopani is good enough to justify a night here. Dinner and overnight stay at a guesthouse in Chisopani.

Day 15

Chisopani - Sundarijal (1350m/4430 ft; 5-6 hrs); Drive to Kathmandu

Today, we trek down the Shivapuri Ridge to road at sundarijal. From Sunderijal, we drive to Kathmandu. Overnight stay at hotel at Kathmandu.

Day 16

Free Day in Kathmandu

Overnight stay at hotel in Kathmandu.

Day 17

Final Departure from Kathmandu

Check-out from Hotel in Kathmandu by 10.00 am & proceed to Tribhuvan International Airport for flight back home.

End of arrangements…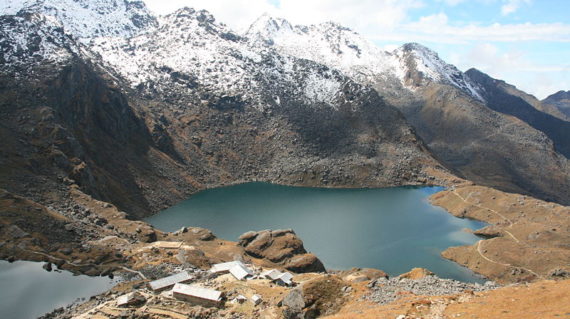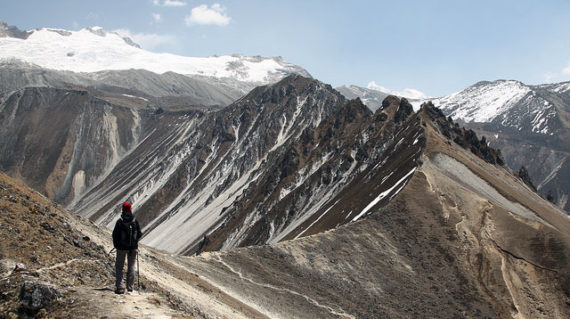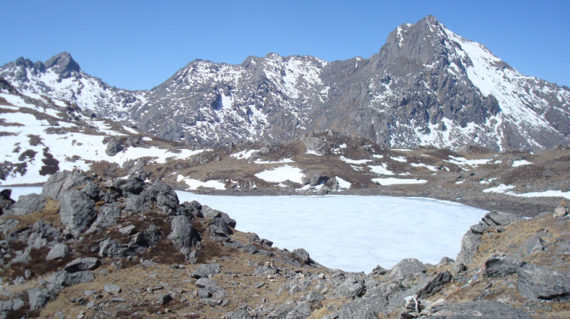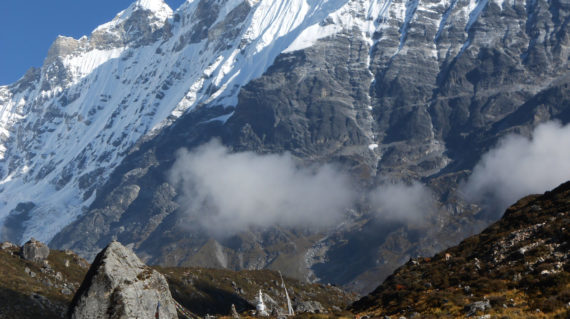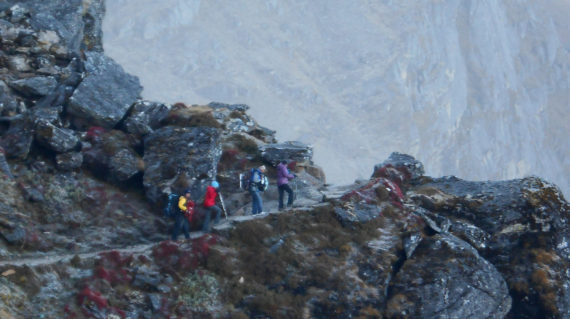 Accommodation:
Kathmandu: In a hotel on twin sharing basis.
Syabrubesi: In a neat and clean Guesthouse on twin sharing basis.
On the Trek: In guesthouses on twin sharing basis.