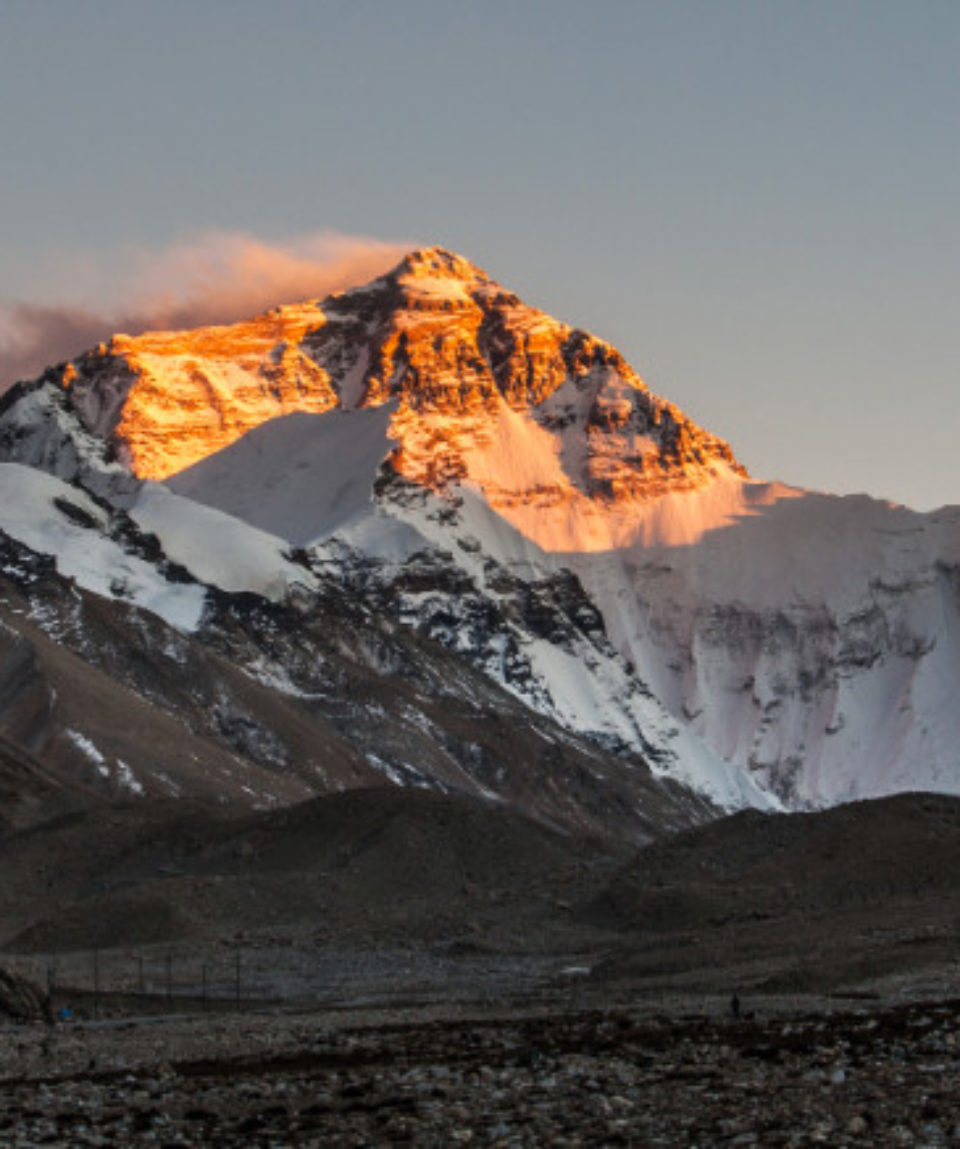 Everest Base Camp – An Iconic Experience with Luxury Lodges
18th Oct 2019 – 2nd Nov 2019
Starting from INR 1,55,845/- per person.
Mt. Everest! The mountain that has captivated the imagination of our race, sacred to both Hindus as well as Buddhists, this mountain now has acquired modern lore of its own, of heroic feats and tragic episodes.
Walk with "Countryside" the route to the base camp of Mt. Everest, the world's highest mountain at 8848m/29,030 ft. straddling the border of Nepal and Tibet. This mountain stands its solid and squat shape beside its neighbors Mt. Lhotse and Mt. Nuptse. This route is the most famous of all trekking routes in the world and goes through some of the most stupendous landscapes anywhere. This is a region where superlatives start failing to describe that magic of a phenomenon that draws people of all kinds.
We arrive into the exotic city of Kathmandu, capital of the Himalayan kingdom of Nepal and next day – fly to Lukla, from where we begin our trek. This route through the Khumbu region goes up the Valley of Dudh Kosi River, through forests of rhododendron and pine, passing quaint Sherpa villages and remote Buddhist monasteries.
En-route, we get spectacular views of Mounts Ama Dablam, Nuptse, Lhotse and Everest itself. Our route will directly take us to Kala Patthar and the Base Camp, from where we would get grand views of the Khumbu glacier and the Western cwm.  Here's a chance to have the experience of a lifetime…
Vacation Style Holiday Type
All about the Everest Base Camp – An Iconic Experience with Luxury Lodges.
HIGHLIGHTS:
One of the world's classic trek.
The ethereal views of Mt. Everest, Mt. Lhotse, Mt. Nuptse, Mt. Pumori, Mt. Ama Dablam.
A walk to the Mecca of mountaineering.
FACT FILE:
Type of Tour : Treks and Walks
Grade : Tough
Maximum Altitude : 5545m/18,193 ft.
Tour Duration : 14 Nights
Trek Duration : 11 Nights/12 Days
Best Season : Mar. – May & Mid Sep. – Nov.
Ex-Destination : Kathmandu
Accommodation (Nights) : Hotel – 02; Guesthouse (Tea House) – 12
Food Plan : Kathmandu – Bed & Breakfast basis; On the Trek – All meals included.
Travel & Transport : Trek transfers in small vehicles/coach; KTM – Lukla – KTM airfares quoted
The tour package inclusions and exclusions at a glance
What is included in this tour?
Items that are included in the cost of tour price.
Accommodation:
Kathmandu: In a Hotel Ramma Inn or similar on twin sharing basis; MAP basis (Breakfast & Dinner included).
On the trek (On twin sharing basis; MAP basis: Breakfast & Dinner included); All lunches outside hotel/lodges.
Travel:
Trek and other internal transfers in small vehicles/coach.
Others:
Complimentary Duffel Bag, Sack & Cap.
Sagarmatha National Park entrance permits fees with necessary documentation.
Trekking Information Management Service (TIMS) fees.
Necessary porterage on the trek.
Local guide on the trek.
Whats not included in this tour?
Items that are not included in the cost of tour price.
Goods & Service Tax as applicable.
Travel to & from Kathmandu.
Airfare from Kathmandu – Lukla & back (quoted separately).
Visa Fees for Foreign Nationals.
Lunch & dinner expenses in Kathmandu.
Hot water for drinking on the trek & hot shower.
Additional Night stay cost in Lukla in case of flight cancellation.
Additional Night stay cost in Kathmandu due to flight cancellation / delays.
Any expenses of personal nature such as mineral water, laundry, liquor, etc.
Any kind of insurance such as accident, theft, medical, evacuation, etc.
Tips to porters, Sherpa team, driver, guide, etc.
Any extra costs incurred due extension/change of the itinerary, because of natural calamities, flight delays/cancellations, road blocks, vehicle breakdown, etc. factors beyond the control of the organizers of this event and its associates.
Items not specified in the above in "Cost Includes".
We can customize a similar tour to suit your requirements or if you are an independent traveller you can check our Countryside Fixed Departures.
Day 1

Arrival in Kathmandu (1337m/4387 ft.)

Arrival at hotel in Kathmandu. After room check-in the hotel, there will be a short briefing and orientation about the trek. Overnight stay at hotel in Kathmandu.

Day 2

Fly from Kathmandu - Lukla (2800m/9187 ft.; 45 min.); Trek to Phakding (2610m/8563 ft.; 3-4 hrs)

Early morning transfer to the airport to fly to Lukla. This 45-minute flight provides a magnificent entry to the trek. It highlights the snowline of the Himalayan Range in the north and the rugged landing at the Lukla airport, which is said to be one of the most spectacular flights in the world. Upon arrival, the guide will arrange the porters at the nearby lodge. During this break, the guests are welcome to explore this bustling town on top of a hill with rows of houses, hotels, and shops lining both sides of the traditional cobbled street.

The trek starts by following the trail leading to the northwest direction through the narrow street, which immediately descends from the end of the village on a trail through the open hillside. The trail is well defined and there are many shops and lodges catering to the trekkers. This day's trek is an easy one and ultimately descends to the river at Phakding. Dinner and overnight stay at guesthouse in Phakding.

Day 3

Phakding - Namche Bazaar (3420m/11,221 ft.; 7-8 hrs)

Leave the main village and the follow the trail on the left bank of the Dudh Kosi River. It is a pleasant walk for the first half of the day as one passes through agricultural countryside and small wayside villages. Just before lunch, there is a steep climb of about 20 minutes to arrive at Monjo for Lunch.

After lunch, trek up to the check post to check the permits and enter into the Sagarmatha National Park. Descend for 10 minute and then cross a suspension bridge to arrive at Jorsale (2800m). Pass through several small villages and beautiful pine forest. This is a busy trail with plenty of human interest. Our first good views are of west ridge of Kusum Kangru (6339m). Follow the Dudh Kosi River, crossing a rickety suspension bridge, which is in a dilapidated condition, and then slowly climb up a very steep trail to Namche Bazaar.  Near half waypoint, we enjoy our first views of Mt. Everest (8848m), Nuptse (7879m) and Lhotse (8383m) – the big three. The climb is for nearly 3 hours, as one gain's altitude, making breathing difficult due to the rarified air. Arrive at a gate with a sign saying, "Welcome to Namche Bazaar" but it is very misleading as it takes another 20 minutes to arrive at the main town. This prosperous town is the largest in Khumbu. Mt. Thamserku (6648 m) and Kwangde Ri (6624 m) loom along the east and west of the village. The sacred mountain Khumbila (5707 m) dominates the skyline along the west.  Dinner and overnight stay at a guesthouse in Namche Bazaar.

Day 4

Namche Bazaar – Shyanboche - Khumjung (3790m/12,435 ft.; 4 hrs)

This village is set in an amphitheatre and is the commercial hub of Kumbhu region. This mini town is dotted with guesthouses, bakeries, book shops, shops selling all types of goods from household essentials to trekking goods. We make short excursion around Namche Bazaar, visiting Sagarmatha National Park head quarter and Sherpa Cultural Museum.

We then head to Everest view hotel via Syangboche airstrip (3730m/12,238 ft.) for the panoramic view of Mt. Everest, Ama Dablam, Thamsherku and many other beautiful peaks around. Afterward we will head to Khumjung village , Which is probably the biggest village in the area. We visit Hilary school established by Sir Edmund Hillary as well as famous Khumjung monastery which is also popular for Yeti Skull. Dinner and overnight stay at a guesthouse in Khumjung.

Day 5

Khumjung - Debuche (3800m/12,468 ft.; 7 hrs)

Walk to the checkpoint to show the permits. Then walk uphill for a short period to reach a huge prayer stone from where the path straightens and we get great views of some of the Himalayan ranges. Later as we walk we descend through the rhododendron forest, watching for the Blood Pheasant and Impeyan Pheasant in the undergrowth. As we reach the valley there is Dudh Kosi River where we stop for a lunch at Phunki Thanga (3200m), next to several large water driven prayer wheels. The afternoon is spent climbing slowly on a steep trail to the Thyangboche Monastery. Thyangboche lies at the base of Kangtega and is a classic setting with superb views backs up the valley to the Ama Dablam, and the Everest poking its southwest face over the huge ridgeline linking Nuptse and Lhotse. The Thyangboche Monastery is one of the most important monasteries of the Khumbu Region and the late afternoon can be spent visiting this ancient Monastery. It is the traditional place where all Everest Expeditions receive their blessings as they walk in towards the base camp. After visiting Thyangboche Monastery a short, steep and muddy descent to Devouche through theforest of briches, conifers and rhododendrons. Dinner and overnight stay at a guesthouse in Debuche.

Day 6

Debuche - Pheriche (4240m/13,912 ft.; 5-6 hrs)

From Debouche we start our climb towards the village of Pangboche. For the next half an hour walk we find the path on level ground and proceed further about 45 minutes uphill to reach Somare (4010m/13,157 ft.). The trail goes up to the left, through the front yards of a few herders' huts, over a stone wall and climbs a small ridge before descending to Khumbu Khola, crossing it by a bridge. 10 minutes walk further from Khumbu Khola we will reach Pheriche. Pheriche is windier and colder than most places in Khumbu. Dinner and overnight stay at guesthouse in Pheriche.

Day 7

Pheriche – Rest day (Acclimatization day)

Prepare yourself early morning to enjoy the sunrise over Mount Dhaulagiri at around 06:00 am.

Post Breakfast, drive to Kagbeni (which is on the way to Muktinath) to enjoy excellent views and if keen can do some fossil hunting along the bank of Kaligandaki river.

In the return journey, if time permits visit any nearby villages or lakes.  Dinner and overnight stay in lodge at Thasang village.

Day 8

Pheriche - Lobuche (4930m/16,175 ft.; 5-6 hrs)

On the way you can watch the beautiful view of the Mt. Cholatese (6443m/21,140 ft.), back on the Westside route Mt. Ama Dablam (6856m/22,495 ft.). After arrival at the ridge, descend for about ten minutes, cross a bridge and arrive at Thugla (4620m/15,158 ft.) for an early lunch. (Note: due to unavailability of water, this is the only lunch stop available). After lunch, the ascent is very steep for about one hour to reach Sherpa Memorial place founded in remembrance to those mountaineers who died during expeditions. Travel along the jumbled moraines and scattered rocks passing by the memorials of Rob Hall and Yasuko Namba and others who perished during the Mt. Everest disaster of 1996. The memorial chortens dots the skyline facing the mountains and overlooking the valley below. Further on the trail leads to the terminal moraine of the Khumbu Glacier with views of Pumori (7165m/23,508 ft.) in the foreground. The stark and the rugged beauty create almost a moonscape. The campsite Lobuche is reached after another hour of steady trekking through the moraine and is situated in a windswept valley with the views of Nuptse. Dinner and overnight stay at guesthouse in Lobuche.

Day 9

Lobuche - Gorakshep (5160m/16,930 ft.) - Everest Base Camp (5340m/17,521 ft.) - Gorakshep (8-9 hrs)

Today we start the trek early in the morning. After about one and half hour of walk we can see the Khumbu Glacier. The path becomes tougher not because it's uphill, but because of the rocky nature and also due to the high altitude. We reach Gorakshep in about three hours and we take a short rest and keep our back packs in one of the lodges. This was the base camp of the 1952 Swiss Everest expedition. In 1953 the British Everest expedition called this 'lake camp'. Gorakshep has a small lake that is usually frozen.

We proceed towards the Everest Base Camp. Everest base camp is not actually a specific site. Various expeditions have selected different locations for a semi-permanent camp during their assault on the mountain. Some of the sites that expeditions have used as base camps are identifiable from debris on the glacier at 5340m or more. The trip to base camp, while fascinating, is not spectacular as the ascent of Kala Patthar because there is no view of Everest itself from base camp.  Dinner and overnight stay at guesthouse in Gorakshep.

Day 10

Gorakshep - Kala Patthar (5545m/18,193 ft.) - Pheriche (9-10 hrs)

Today is the most beautiful day of the trek where you are going to see few good peaks along with Mt. Everest. Start early morning, trek the steep uphill climb to Kala Patthar. One must make sure to take his time and walk at a pace, which you feel most comfortable with. From the top we get magnificent views of the Himalayan Range. We were able to see peaks such as Lingtren, Khumbutse, Chagtse tower and Everest itself close to another peak called Nuptse. It takes us over 3 hrs to make the summit and a whole bunch of stops along the way to catch our breath. We will spend some time at the Kala Patthar summit and capture a life time memory in our cameras. After having some packed breakfast we will head off down the valley as we begin our return to civilization. It will take 4-5 hrs to reach Pheriche. Dinner and overnight stay at guesthouse in Pheriche.

Day 11

Pheriche – Namche Bazaar (3420m/11,221 ft.; 8-9 hrs)

From Pheriche, we slightly take a different route down to decent down today. We reach Pangboche where you can explore the oldest monastery in the region. The monastery is said to contain the scalp and bones of abominable snowman Yeti. We leave Thyangboche Monastery and finally arrive at Namche. Dinner and overnight stay at guesthouse in Namche Bazaar.

Day 12

Namche Bazaar - Lukla (8-9 hrs)

The trek from Namche to Lukla is a long days walk. From Namche, head to the end of the village and then immediately start to descend to the river. If going up was tough it is equally hard to get the footing and walk down hill. Head along the banks of the river and then further descend to Monjo for Lunch. It is interesting to watch others starting enthusiastically on the trek ahead. From Phakding, it is a surprising hard uphill climb to Lukla, which should take about 3 hours. It is a delightful ending to the trip as one enters into this busy village and our campsite at Lukla. Dinner and overnight stay at guesthouse in Lukla.

Day 13

Buffer Day

Dinner and overnight stay at Teahouse / Guesthouse.

Day 14

Fly from Lukla - Kathmandu

After breakfast, walk to Lukla Airport and fly back to Kathmandu. Upon arrival, transfer to hotel for refreshment. Rest of the day is free for last minute shopping and packing. Overnight stay at hotel in Kathmandu.

Day 15

Final Departure

Check-out from Hotel in Kathmandu by 10.00 am.

 

End of arrangements…

We strongly recommend that you have atleast one or two extra day for contingencies in Kathmandu post the trek.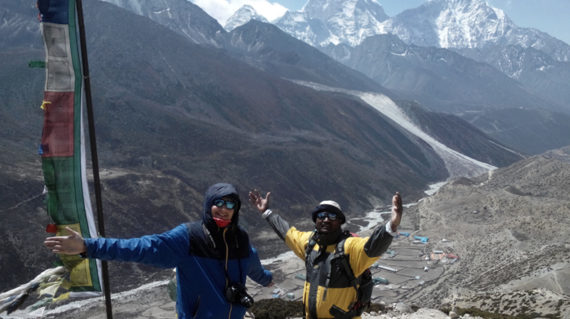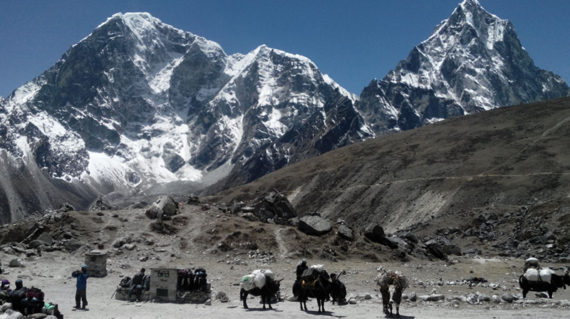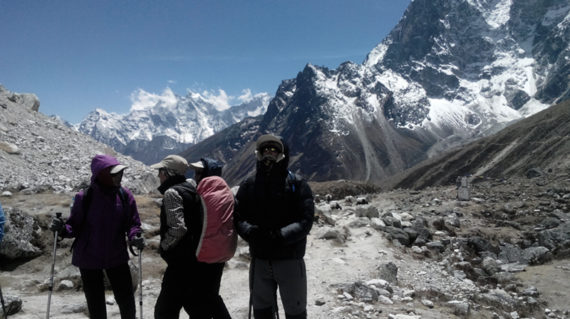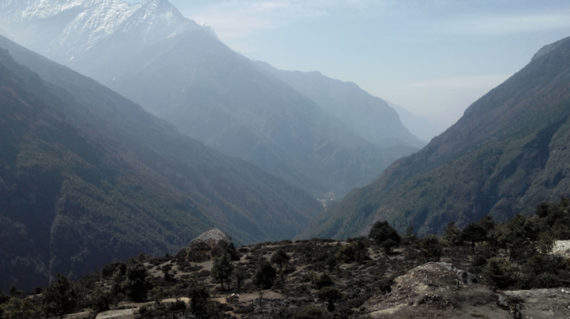 Accommodation & Food:
Kathmandu: In a hotel on twin sharing basis; Bed & Breakfast basis.
On the trek: In a Teahouse / Guesthouse on twin sharing basis; All meals included.
Welcome & Farewell Dinner.
Children 15 years and above can be considered if accompanied by any other adult above 18 years of age.  Medical Certificate is required from all age groups.
 This trek is graded as 'Tough'. It is ideal for adults and children above the minimum age of 15. This trek involves walking on defined trails for 11 days with an average walking duration of 6-7 hrs daily. Net height gain on few of the days can be 700m or more, with the maximum altitude not exceeding 5545m. This trek involves walking on high altitude. This trek is physically very challenging. Physical fitness & previous walking experience in the outdoors is essential.
We do not recommend this trek to people with chronic problems like epilepsy and those related to blood pressure or heart or Diabetes.
 Day temperatures average between 15ºC – 27ºC and night temperatures can drop to subzero. However, the temperatures would vary a lot depending on the season and altitude.
It is important to purchase a comprehensive travel insurance policy against illness, hospitalization, flight delays, loss of luggage, cancellations and amendments due to weather conditions, political disturbances or natural calamities as well as emergency helicopter evacuation, etc. The World Nomads Travel Insurance Policy is available. Please find the link www.worldnomads.com/travel-insurance/ The Trawell Tag Insurance Policy is available. This policy is not cashless. Clients will have to bear the cost initially and later claim the amount from the insurance company. Please find the link www.karvatgroup.in In case you decide to buy any other insurance policy in your home country, please ensure that the policy covers cashless evacuation and covers you for Adventure activities and/or trekking activity above 4000 meters.
The local staff such as the guides, porters, etc.; work extremely hard all through the trek. On the trek, there are no working hours; they would travel, walk, climb or go through bad weather along with us and still be happy to serve us at any time of the day. So, it is expected of the group to contribute a modest amount towards tips and the staff would expect this at the end of their services. We suggest you to contribute INR 2000/- (US$35) per person as a token of gratitude and appreciation. This may be collected by one of the group members and presented to the staff.
Baggage allowance of 15 kg is permissible on Kathmandu – Lukla sector flights. • On treks, porters or mules will carry all personal luggage up to a maximum of 15 kg. Guests are expected to carry only a small rucksack while walking to carry all the essentials such as water bottle, extra jackets, camera, pack lunch, etc. • The personal luggage along with the sleeping bag, Feather jacket should be packed in a duffel bag. • If the client wishes to hire a porter so that he can walk along with the client, then an extra porter can be arranged on written request in advance, for which the client must make an extra payment. The cost for an extra porter will be INR 800/- per day. This porter will carry only your daypack (not weighing more than 10 kg) from camp to camp. After reaching the camp he will be free. The request should be made in writing info@countrysideindia.com at least 10 days prior to the trek date.
It is mandatory that all participants carry 02 passport size photographs for the issuance of permits.
This trek is a high-altitude trek and the maximum height reached will be approx. 5545m. Acute mountain sickness (AMS) can be caused due to high altitudes. The AMS may be avoided by taking precautions given in the document attached on high altitudes, please read the document carefully. The high altitude can cause Acute Mountain Sickness and may lead to serious critical medical conditions such as cerebral or pulmonary edema. The weather can change dramatically causing rain, thunderstorm, flash floods, cloudburst, snowfall and severe drop in temperatures, causing severe physical hardships.
 This trek takes you to remote areas where the day-to-day lifestyle is very different and events much less predictable. Hygiene, safety and operational standards particularly of hotels/guesthouses, medical facilities, road transport, airlines flying remote sectors and other infrastructure may, at times, not match or be lower than those you normally expect. Though we take every effort to ensure your safety, comfort and well being, we are at the mercy of the unexpected on such treks. Your participation on this trek is based on the understanding that you realize the hazards including injury, sickness, loss or damage to property, inconvenience and discomfort and the organisers do not make themselves responsible for the same.
We stay in Hotels / Lodges on this trek. Most of the guesthouses are basic and on twin sharing basis with small neat and clean rooms and ensuite / common toilets. The common toilets may be either inside the lodge or located outside the lodge and at times the cleanliness standards may be lower than those you normally expect. Food is provided from the kitchen of the same guesthouse. Hot (drinking) potable water is not included in our trip cost. At higher altitudes the quality of these guesthouses is not good and the choice of food is limited. At higher altitudes, the quality and the choice of food is limited.
*Guest having any specific dietary requirements should inform us in advance.
On this trek, professional medical help is not available. It is your responsibility to ensure that you are physically fit and able to complete the itinerary of your chosen trek, prior to booking the trek. It would be advisable to speak to your physician if you are unsure of your fitness levels. It would be advisable to speak to the trek leader or representatives from our organization, who have done the trek earlier. In case you have an existing medical condition or disability you must inform us at the time of booking, in the Personal Information Form and also to the 'Trek Leader' at the beginning of the trek. If in our opinion, the selected trek is not suitable for your medical condition, we reserve the right to refuse a booking.
We carry a comprehensive first aid kit as suggested by doctors. In case of any health problems that you may face on the trek, it would be advisable to speak to your Trek Leader / local guides / local representatives. Please note that all these treks are not accompanied by a medical doctor.
These treks are on high altitude where you would be staying at altitudes above 2500m; extra precaution is needed before you acclimatize to these altitudes. Our itineraries are designed to enable everyone to acclimatize to these altitudes. However, you should be aware that you may still be affected by altitude. If you have any preexisting medical condition or are unsure about your own physical ability, we recommend that you seek medical advice prior to booking. Also, please discuss your concerns, if any, with our office staff and with the trek leader on the trek. If you are on any personal medication, please keep the trek leader informed on the dosage and medication.
Any medical and evacuation expenses incurred for the client will have to be borne by that person only. (All the participants have to keep some contingency amount as a backup at home for this kind of emergency).
Sleeping bag and Feather jackets can be hired on written request, at info@countrysideindia.com, atleast 10 days prior to date of reporting. The same will be provided on arrival at reporting hotel. Rentals for Sleeping Bag & Feather Jacket is INR 100/- per day each plus INR 100/- each for laundry.