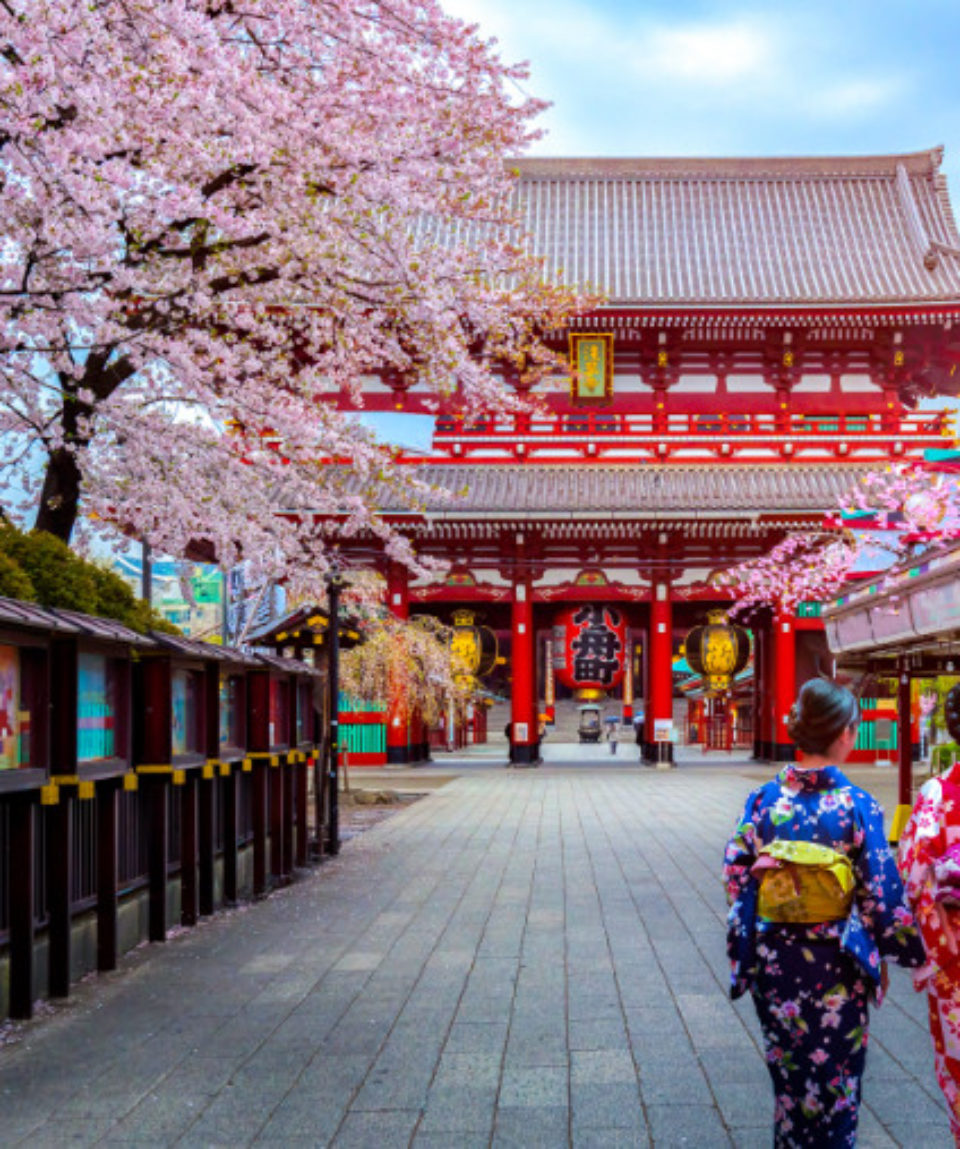 Cherry Blossom Festival in Japan
 Best Season : End March – Mid April
The sakura flower, or Japanese cherry blossom, is considered Japan's unofficial national flower and has been admired by people all across the globe for it undeniable beauty. They are so popular among tourists that thousands travel to Japan every year during the spring season to get a glimpse of the spectacle of the trees blooming with these pink or white flowers. It's during this time that many Japanese gather their family and friends to enjoy hanami, the tradition of admiring the beauty of the cherry blossoms, which they usually do by making picnics under the blooming trees.
The cherry blossom (or sakura) "front" sweeps along the length of the country each year, beginning with Okinawa in the far south in February and working its way along Japan to northern Hokkaido in May. A variety of factors can affect when the cherry blossom comes into bloom: a particularly cold winter can mean that the flowers come out late, unseasonably mild weather can usher them out sooner, and heavy rain can mean that the trees drop their petals much quicker than otherwise.
We start the tour with visiting Kyoto, Nara and Osaka. Travel by bullet train to Hakone and do sightseeing. From here we travel to Tokyo and spend two whole days in Tokyo sightseeing.
Vacation Style Holiday Type
All about the Cherry Blossom Festival in Japan.
HIGHLIGHTS:
Enjoy Cherry Blossom in Kyoto & Tyoko
Enjoy Mt Fuji Hakone Tour with Mt. Fuji 5th Station
Enjoy Geisha Show with Japanese Tea ceremony
Experience the Bullet Train
FACT FILE:
Type of Tour : Cultural Experience
Grade : Soft
Tour Duration : 07 Nights
Best Season : End Mar. – Mid Apr.
Ex-Destination : Start – Osaka; Ends – Tokyo
Reporting Time & Venue : 16:00 hrs at Osaka Airport
Dispersal Time & Venue  : 12:00 hrs at Tyoko Airport
Accommodation (Nights) : Hotel – 06 (3 Star); Ryokan – 01
Food Plan : 07 Breakfast & 07 Dinners
Travel & Transport : Transfers & Sightseeing by coach. Bullet Train from Kyoto – Hakone
Day 1

Arrival in Osaka; Transfer to Kyoto (94 km; 1½ hrs)

Arrive Osaka, meet your local representative at the airport and proceed to Kyoto, head to your hotel & Check in (1500 hrs) & relax. Rest of the day at leisure. Later proceed for Dinner at local restaurant. Overnight stay at hotel in Kyoto.

Meal: Dinner.

Day 2

Kyoto – City Tour

After breakfast proceed for the city tour of Kyoto.

Enjoy a short trip on the Sagano Scenic Railway. The Sagano Romantic train travels a leisurely, 25-minute route from Saga Torokko station to Kameoka Torokko Station, following the scenic beauty of the Hozukyo Ravine on its route. Cherry blossoms in spring, lush greens in summer, Japanese maple in fall, and perhaps a dusting of snow in winter – all four seasons are delightful.

Later we visit the Arashiyama Bamboo Grove one of the most photographed sights in the city and the Tenryu-ji Temple, a sprawling Zen temple with one of the finest gardens in Kyoto and wonderful mountain views.

Post lunch we visit Nijo Castle which was built in 1603 as the Kyoto residence of Tokugawa Leyasu, the first shogun of the Edo Period (1603-1867). His grandson Lemitsu completed the castle's palace buildings 23 years later and further expanded the castle by adding a five story castle keep.

After the Tokugawa Shogunate fell in 1867, Nijo Castle was used as an imperial palace for a while before being donated to the city and opened up to the public as a historic site. Its palace buildings are arguably the best surviving examples of castle palace architecture of Japan's feudal era, and the castle was designated a UNESCO world heritage site in 1994.

Philosophers Path is a pleasant stone path through the northern part of Kyoto's Higashiyama district. The path follows a canal which is lined by hundreds of cherry trees. Usually in early April these trees explode with color, making this one of the city's most popular hanami (cherry blossom viewing) spots.

Approximately two kilometers long, the path begins around Ginkakuji (Silver Pavilion) and ends in the neighbourhood of Nanzenji. The path gets its name due to Nishida Kitaro, one of Japan's most famous philosophers, who was said to practice meditation while walking this route on his daily commute to Kyoto University.

Enjoy Geisha Show with Japanese Tea ceremony & Dinner at a local restaurant. Overnight stay at hotel in Kyoto.

Meal: Breakfast & Dinner.

Day 3

Kyoto – Nara City Tour

After breakfast head for Nara city tour,

Visit Nara Deer Park, a large park in central Nara established in 1880. The park is home to hundreds of freely roaming deer. Considered in Shinto to be messengers of the gods, Nara's nearly 1200 deer have become a symbol of the city and have even been designated as a natural treasure.

Todai Ji Temple, is one of Japan's most famous and historically significant temples and a landmark of Nara. The temple was constructed in 752 as the head temple of all provincial Buddhist temples of Japan and grew so powerful that the capital was moved from Nara to Nagaoka in 784 in order to lower the temple's influence on government affairs.

Post lunch, we visit Kinkaku-ji (the more popular name for its actual name Rokuon-ji) is one of the most famous temples in Japan and a definite must-see on you Kyoto bucket list. The awe-inspiring sight of the richly decorated golden temple that seems to float over the mirror pond is worth a visit to Kyōto alone. The garden is an extraordinary example of a Japanese strolling garden of the Muromachi period.

Kiyomizudera (literally "Pure Water Temple") is one of the most celebrated temples of Japan. It was founded in 780 on the site of the Otowa Waterfall in the wooded hills east of Kyoto, and derives its name from the fall's pure waters. The temple was originally associated with the Hosso sect, one of the oldest schools within Japanese Buddhism, but formed its own Kita Hosso sect in 1965. In 1994, the temple was added to the list of UNESCO world heritage sites.

Kiyamachi Dori is a historical and very picturesque street along the Takase River in the heart of Kyoto! It is one of Kyoto's favorite Cherry blossom spots. You can walk and enjoy the cherry trees along the embankment all the way from Sanjo Dori to Shijo Dori. There are many bars, restaurants and shops in this part of Kyoto.

Later proceed for Dinner at local Indian restaurant. Overnight stay at hotel in Kyoto.

Meal: Breakfast & Dinner.

Day 4

Kyoto – Half Day Sightseeing; Hakone by Bullet Train

After breakfast, check out of the hotel. Note: Prepare small hand bag for 1 night, 1 big luggage courier to Tokyo.

Visit Osaka Castle (Osakajo) – The construction started in 1583 by Toyotomi Hideyoshi who intended the castle to become the center of a new, unified Japan under Toyotomi rule. It was the largest castle at the time. However, a few years after Hideyoshi's death, Tokugawa troops attacked and destroyed the castle and terminated the Toyotomi lineage in 1615.

Osaka Castle was rebuilt by Tokugawa Hidetada in the 1620s, but its main castle tower was struck by lightning in 1665 and burnt down. It was not until 1931 that the present ferro-concrete reconstruction of the castle tower was built. During the war it miraculously survived the city wide air raids. Major repair works gave the castle new glamor in 1997. The castle tower is now entirely modern on the inside and even features an elevator for easier accessibility. It houses an informative museum about the castle's history and Toyotomi Hideyoshi.

Nishinomaru Garden is one of Osaka's most popular hanami spot during the cherry blossom season, which usually takes place in early April.

The Umeda Sky Building is a spectacular high rise building. It is also known as the "New Umeda City". The 173 meter tall building consists of two towers that are connected with each other by the "Floating Garden Observatory" on the 39th floor. The observatory offers great views of the city through its windows and from its open-air deck.

Post lunch we are transferred to Shin-Osaka Station. Board a Bullet Train from Shin-Osaka to Odawara Station. Arrive at Odawara and transfer to hotel & check in. Dinner and overnight stay at hotel in Hakone.

Meal: Breakfast & Dinner.

Day 5

Hakone Sightseeing; Tokyo by Coach

Post breakfast, check-out of the hotel. We head for Mt. Fuji & Hakone sightseeing tour.

Mount Fuji is with 3776 meters Japan's highest mountain and an active volcano. Hakone is located at the foot of magnificent Mount Fuji. There are many fine hot springs (onsen) and locations with grand views of Mount Fuji here. The Fuji Subaru Line 5th Station (also known as Yoshidaguchi 5th Station or Kawaguchiko 5th Station) lies at approximately the halfway point of the Yoshida Trail, which leads from Fujiyoshida Sengen Shrine at the mountain's base to the summit of Mount Fuji. At 2300 meters above sea level, the Fuji Subaru Line 5th Station offers a commanding view of the Fuji Five Lakes area below. An observation point with unobstructed views of Fujiyoshida City and Lake Yamanaka can be found at Komitake Shrine behind the shops.

Post lunch we take the Lake Ashi Cruise. Lake Ashinoko was formed in the caldera of Mount Hakone after the volcano's last eruption 3000 years ago. Today, the lake with Mount Fuji in the background is the symbol of Hakone. The best views of the lake in combination with Mount Fuji can be enjoyed from Moto-Hakone (a few steps south from the sightseeing boat pier), from the Hakone Detached Palace Garden and from the sightseeing boats cruising the lake.

The Hakone Ropeway service operates at approximately one-minute intervals, and the 30-minute journey from Sounzan Station to Togendai Station, which nestles on the shore of Lake Ashi, allows visitors to take in such spectacular views as the crystal-clear blue waters of Lake Ashi, the rising volcanic fumes of Owakudani and the grandeur of Mount Fuji on a fine, sunny day.

After sightseeing transfer to Tokyo by coach. Dinner at an Indian restaurant. Post dinner we check-in the hotel and receive luggage. Overnight stay at hotel in Tokyo.

Meals: Breakfast & Dinner.

Day 6

Tokyo – Sightseeing

Post breakfast at hotel we head to Tokyo Cherry Blossom sightseeing.

Showa Memorial Park is a park in the city of Tachikawa, 30 minutes from central Tokyo by train. Spanning over 160 hectares, this huge park boasts a variety of natural spaces, seasonal flowers, water features, museums and sports facilities. The park was opened in 1983 to commemorate the 50th anniversary of Emperor Showa's reign. The park is spacious and lush and has multiple wide lawns where visitors can picnic and relax. There are also woodlands with walking trails, picturesque Japanese and Western style gardens, a large pond and various flower beds that sprawl out over some of the many fields and hills.

Post lunch we visit Shinjuku Gyoen. Shinjuku Gyoen is one of Tokyo's largest and most popular parks. Located just a short walk from Shinjuku Station, the paid park's spacious lawns, meandering walking paths and tranquil scenery provide a relaxing escape from the busy urban center around it. In spring Shinjuku Gyoen becomes one of the best places in the city to see cherry blossoms.

Later we take the Sumida River cruise followed by free time for shopping at Ginza.

Dinner at an Indian restaurant. Overnight stay at hotel in Tokyo.

Meals: Breakfast & Dinner.

Day 7

Tokyo – Sightseeing

Today post breakfast we head for the Tokyo city tour.

Sensoji (also known as Asakusa Kannon Temple) is a Buddhist temple located in Asakusa. It is one of Tokyo's most colorful and popular temples. The legend says that in the year 628, two brothers fished a statue of Kannon, the goddess of mercy, out of the Sumida River, and even though they put the statue back into the river, it always returned to them. Consequently, Sensoji was built nearby for the goddess of Kannon. The temple was completed in 645, making it Tokyo's oldest temple. This is followed by a visit to Nakamise shopping centre.

Later we visit the Imperial Palace for its view from outside. The Imperial Palace East Gardens (Kōkyo Higashi Gyoen) are a part of the inner palace area and are open to the public. They are the former site of Edo Castle's innermost circles of defense, the honmaru ("main circle") and ninomaru ("secondary circle"). None of the main buildings remain today, but the moats, walls, entrance gates and several guardhouses still exist. Edo Castle was the residence of the Tokugawa shogun who ruled Japan from 1603 to 1867. Emperor Meiji also resided there from 1868 to 1888 before moving to the newly constructed Imperial Palace.

Post lunch we drive by Rainbow Bridge. The Rainbow Bridge features a stretched and beautiful shape like a rainbow over Tokyo Bay as its name suggests. It is a 798-meter suspension bridge spanning from Shibaura Pier and the Odaiba waterfront development in Minato Ward. It is officially called "Tokyo Wan Renraku-kyo" (Tokyo Bay Connector Bridge). The bridge is illuminated from the sunset until midnight to offer a fantastic scene. Long-life and energy-saving electrode-less lamps are used to illuminate the bridge into cool white in summer and warm white in winter. In addition, the illumination changes in color depending on events, days and hours for the enjoyment of viewers.

Later we visit Odaiba – Statue of Liberty, an uncanny replica in Odaiba stands at only roughly 40 feet tall, about 1/7th the size of its New York counterpart. Originally erected temporarily from 1998-1999 to pay tribute to Japan's ties with France, the statue was returned for good in 2000 due to its popularity. The statue overlooks the Rainbow Bridge, and Tokyo Bay. With glowing lights, sometimes in rainbow colors for special holidays and events, it creates quite the striking scene behind the Statue of Liberty, and is one of the prettiest views in Tokyo day or night.

Mega Web is the car theme park to 'Look', 'Ride' and 'Feel' automobile. There are 3 facilities based on each theme. Explore the TOYOTA's theme park.

Daiso – Whether you're looking for household products or cheap souvenirs, you're sure to find what you need at this three-floor ¥100 shop, a prominent landmark on Harajuku's Takeshita-dori shopping street. Daiso makes life easier for international shoppers by offering floor guides in English as well as Japanese, while some of the staff can also speak English.

Last we visit the Tokyo Tower standing 333 meters high in the center of Tokyo, It is the world's tallest, self-supported steel tower and 13 meters taller than its model, the Eiffel Tower. A symbol of Japan's post-war rebirth as a major economic power, Tokyo Tower was the country's tallest structure from its completion in 1958 until 2012 when it was surpassed by the Tokyo Skytree. The tower's main deck at 150 meters is reached via elevator or a 600-step staircase (both paid). Thanks to the tower's central location, the observatory offers an interesting view of the city despite being only at a relatively moderate height. There are also some "lookdown windows" in the floor to stand on, a souvenir shop and a cafe where visitors can enjoy refreshments.

Dinner at an Indian restaurant. Overnight stay at hotel in Tokyo.

Meals: Breakfast & Dinner.

Day 8

Tokyo - Final departure

Post breakfast we check-out of the hotel and are transferred to the airport.
Accommodation (Nights) : Hotel – 06 (3 Star); Ryokan – 01
The tour package inclusions and exclusions at a glance.
Accommodation: Kyoto, Hakone & Tokyo in 3 * hotels on twin sharing basis.
Kyoto – Hotel New Hankyu Kyoto/Hotel Keihan Kyoto/Kyoto Tower Hotel or Similar
Hakone – Palace Hotel Hakone/Hakone Kagetsuen Hotel/Resorpia Hakone or Similar
Tokyo – Wing International Shinjuku/ APA Hotel Shinjuku Gyoemmae/APA Hotel Roppongi Ekimae or similar.
Food: 07 Breakfast, 06 Dinner at Local restaurant and 01 Geisha Show with Dinner (Japanese Meal).
Transfers:
Arrival & Departure Transfer
All Tour and transfers on Private basis.
Bullet train – Osaka to Odawara (Normal Class).
Luggage transfer from Kyoto to Tokyo (01 Bag per Person).
Others:
Kyoto & Nara Tour with Kinkakuji & Kiyomizudera, Nara Deer Park & Todai Ji Temple, Geisha Show with Japanese tea ceremony
Osaka City Tour with Osaka Castle, Umeda Sky building
Mt Fuji Hakone Tour with Mt. Fuji 5th Station (Weather permitting), Lake Ashi Cruise, Hakone Ropeway (Weather Permitting)
Tokyo Cherry Blossom tour with Showa Memorial Park, Shinjuku Gyoen, Sumida River Cruise.
Tokyo City Tour with Imperial Palace East Garden, Sensoji Temple, Nakamise Shopping Street, Yasukuni Shrine (Yasukuni Jinja) with Museum, Tokyo Tower (150 mt)
2 X 500 ml water bottle each Day
Goods & Service Tax as applicable.
International Flight Fares + Tax (Quoted Separately)
Visa Fees (Quoted Separately)
Drinks during included meals.
Other not mentioned meals or refreshments.
Guide & Driver Tips JPY 500 per Person per Day
Entertainment – Taiko Drum Bollywood Dance or Japanese Dance
Other not mentioned tours, activities or extras.
Any expenses of personal nature such as mineral water, laundry, liquor, etc.
Any kind of insurance such as accident, theft, medical, evacuation, etc.
Tips to hotel staff, driver, guide, etc.
Any extra costs incurred due to extension/change of the itinerary because of natural calamities, flight delays, road blocks, vehicle breakdown, etc. factors beyond the control of "Countryside Adventure Holidays Pvt. Ltd." and its associates.
Items not specified in the above in "Cost Includes".