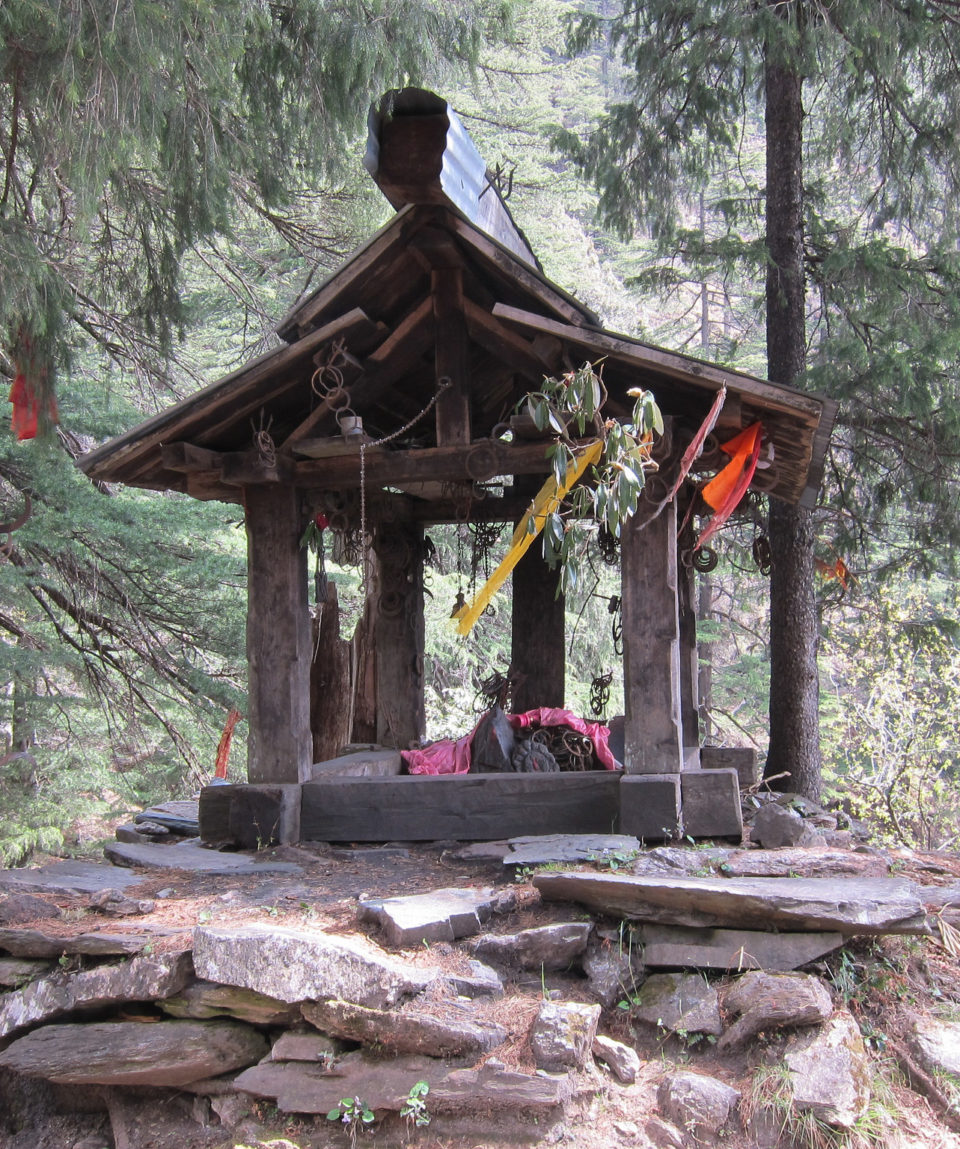 Trek to Bhabha Pass
June – September
Starting from INR 64,450/- per person.
This is a slightly long trek which involves climbing a high altitude pass.  For the first part we walk along the Bhabha River and climb through Cedar forest and see some amazing Himalayan flora. This is one of the most beautiful Himalayan valleys that you may come across and is a visual treat during the flowering season in the meadows. We cross over Bhabha Pass witnessing the two contrasting sides – the Spiti side a desert and the Kinnaur side a beautiful green.  We descend through ice and the moraine and finally halt at Paldar, from here, it is a continuous and tiring descent to the very scenic Mud village.
Vacation Style Holiday Type
All about the Trek to Bhabha Pass.
HIGHLIGHTS:
Explore the beautiful and lush green Bhabha valley.
Visit the pristine meadows at Mulling & Kahra.
Enjoy the views from Bhabha Pass.
FACTFILE:
Type of Tour: Treks & Walks
Grade: Moderate
Maximum Altitude: 4865m/15,962 ft.
Tour Duration: 09 Nights
Trek Duration: 05 Nights/06 Days
Best Season: June – Sep.
Ex-Destination: Chandigarh
Accommodation (Nights) : Hotel – 03, Camping – 06
Food Plan: Narkanda, Tabo – Breakfast & Dinner basis; On the Trek – All meals included.
Travel & Transport: Transfers and sightseeing in SUV/MUV.
The tour package inclusions and exclusions at a glance
What is included in this tour?
Items that are included in the cost of tour price.
Travel:
Transfer and sightseeing in SUV/MUV.
Others:
Complimentary Duffel Bag, Sack & Cap.
Local guide on the trek.
Necessary porterage and camping equipment for the trek.
Whats not included in this tour?
Items that are not included in the cost of tour price.
Goods & Service Tax as applicable.
Travel to & from Chandigarh.
Any expenses of personal nature such as mineral water, laundry, liquor, etc.
Any kind of insurance such as accident, theft, medical, evacuation, etc.
Tips to driver, guide, hotel staff, etc.
Any extra costs incurred due to extension/change of the itinerary because of natural calamities, flight delays, road blocks, vehicle breakdown etc. factors beyond the control of "Countryside Adventure Holidays Pvt. Ltd." and its associates.
Items not specified in "Cost Includes".
We can customize a similar tour to suit your requirements or if you are an independent traveller you can check our Countryside Fixed Departures.
Day 1

Arrival in Chandigarh; Drive to Narkanda (2740m/8990 ft.; 177 km; 6 - 7 hrs)

The meeting place for the group is Chandigarh airport at 13:00 hrs. We get picked up either at the Airport or the Railway station and start for Shimla and further to Narkanda. As we leave behind the plains the air gets cooler and we negotiate the winding mountain roads. Dinner and overnight stay at a hotel in Narkanda.

Day 2

Narkanda – Kafnu (2400m/7874.4 ft.; 136 km; 4 - 5 hrs)

Today, we drive to Kafnu. Dinner and overnight stay in camp in Kafnu.

Day 3

Kafnu - Mulling (3350m/10,991 ft.; 5 - 6 hrs)

First part of the walk is all along the Bhabha River, but slowly the trail climbs through the incredible mixed cedar forests. On the way we pass through few old wooden houses in the middle of the forest. One the way we get introduced to an amazing variety of Himalayan Flora. Slowly the valley opens into an incredible meadow located at the bank of River Bhabha, carpeted with variety of alpine flowers it set a beautiful glade amidst prime cedar trees. Dinner and overnight stay at camp in Mulling.

Day 4

Mulling - Kahra (4205m/13,797 ft.; 3 - 4 hrs)

Start on a flat meadow, with alpine flowers all around. The trail narrows as you reach the junction of two streams, with rare Himalayan Blue Poppy Flower in the middle of the Rocks. Cross the stream that you have been following from the campsite, keeping this stream to your right; continue climbing up on till you reach the open pasture grounds of Kahra. Dinner and overnight stay at camp in Kahra.

Day 5

Kahra – Tia/Pasha (3 - 4 hrs)

Dinner and overnight stay at camp in Tia/Pasha.

Day 6

Tia/Pasha – Phustring (4290m/14,076 ft.; 4 - 5 hrs)

We retrace our steps till the bifurcation where we crossed the stream yesterday. We climb gradually up the valley, the valley gets a bit narrower, but the scenery wins one's heart with alpine flowers on the valley floor and waterfalls on the adjoining hills. Today we camp at the foot of the Pass. Dinner and overnight stay at camp in Phustring.

Day 7

Phustring - Bhabha Pass (4865m/15,962 ft.) - Paldar (7 - 8 hrs)

Climbing steeply, the going is rugged for most the day, there is no defined trail, walking over moraine, scree, boulders and a push through the snowfields to the top. The top of the Pass offers great contrast to both sides, towards Spiti, it is the chocolate coloured barren mountains and to the Kinnaur side it is all green. First part of the descent involves ice/snow field for around hundred meters. The later part is descending through the moraine till we get to the bottom. From here it is another half an hour through the boulders. Dinner and overnight stay at camp in Paldar.

Day 8

Paldar - Mud (3811m/12,500 ft.; 7 - 8 hrs); Drive to Tabo (65 km; 2 - 3 hrs)

Today we have a long slow descent towards Mud village. The village can be seen at the end of the valley but take a long time to approach. We enter the Mud village through the numerous Potato, Pea & Barley fields surrounding it. We get into our waiting vehicles and drive to Tabo. Dinner and overnight stay at guesthouse in Tabo.

End of arrangements…

Day 9

Tabo – Narkanda (2708m/8885 ft.; 315 km; 11 - 12 hrs)

Today is a long day of driving and we have to make a very early start. Overnight stay at hotel in Narkanda.

Day 10

Narkanda - Chandigarh (185 km; 7 - 8 hrs); Final departure

After a very early breakfast we leave for Chandigarh airport.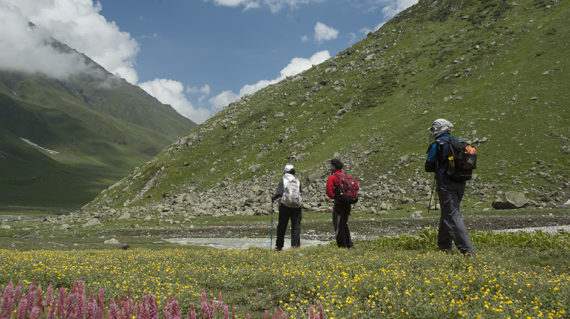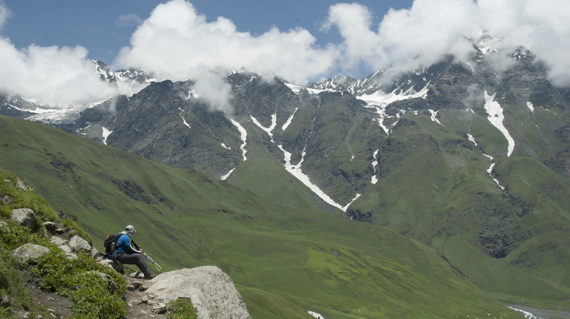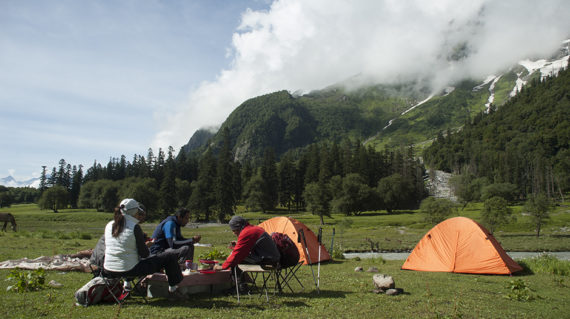 Accommodation:
Narkanda & Tabo: In a hotel on twin sharing basis; Breakfast & Dinner basis.
On the trek: In small camping tents on twin sharing basis; All meals included (Meals include Breakfast, Lunch & Dinner only).
Minimum 18 years completed.
This trek involves walking for 4 – 5 hours daily at an easy pace & 7 – 8 hrs on 2 days and is recommended for people with an extremely good level of physical fitness. We do not recommend this tour to people with chronic problems like epilepsy and those related to blood pressure or heart or diabetes.
It's mandatory that all the participants carry a valid photo id., (Driving License, Voter Id., Passport or Adhar Card) for issuance of permits and 02 passport size photographs.
If the client wishes to hire a porter so that he can walk along with him, then an extra porter can be arranged on the spot for which the client must make an extra payment. The cost for an extra porter will be INR 1000/- per day.
Day temperatures average between 15ºC – 20ºC and night temperatures can drop to below 10ºC. However the temperatures would vary a lot depending on the season and altitude.
This trek is a high altitude trek and the maximum height gain will be approx. 4865m. Acute mountain sickness (AMS) can be caused due to high altitudes. The AMS may be avoided by taking precautions given in the document attached on high altitudes, please read the document carefully. The high altitude can cause Acute Mountain Sickness and may lead to serious critical medical conditions such as cerebral or pulmonary edema.
The weather can change dramatically causing rain, thunder storm, flash floods, cloud burst, snow fall and severe drop in temperatures, causing severe physical hardships.
Sleeping bag and Feather jackets can be hired on written request in advance atleast 10 days prior to date of reporting. The same will be provided on arrival at reporting hotel. Rentals for Sleeping Bag & Feather Jacket is INR 100/- per day each plus INR 100/- each for laundry.
The long mountainous journey is very scenic but roads are winding and can be bumpy sometimes. The area is prone to landslides. However the journey is usually safe.