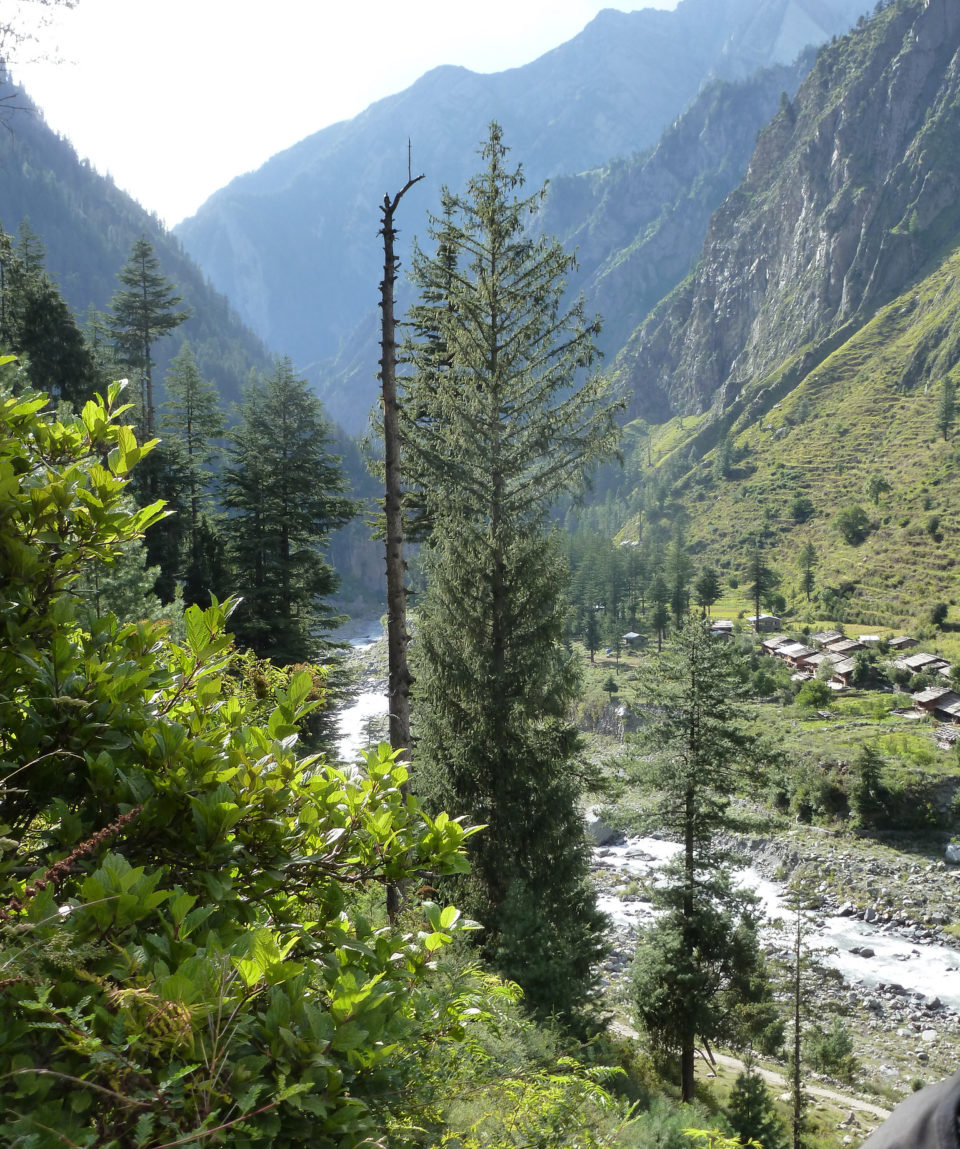 Trek to Bara Bhangal
Mid September – Mid October
Starting at INR 72,650/- per person
Bara Bhangal – a mountain pass cut off from the world by 15,000 ft – 16,000 ft passes and gorges too narrow for anything to pass but sheep and men without a backpack. Be prepared for a thrilling adventure, and you will be rewarded by spectacular views. There is a possibility that you will get a glimpse of a bear, musk deer or a snow cock. There will be steep climbs and shorts stretches of scree and snow, and though no climbing experience is required it should be remembered that these high passes can be challenging.
Vacation Style Holiday Type
All about the Trek to Bara Bhangal.
HIGHLIGHTS:
Most stunning views of the Manali Himalayas.
A tough & thrilling trek!
A mix of thick forest, wildlife, 2 high altitude passes, steep ascents & descents.
Enjoy the beauty of Bara Bhangal village.
FACT FILE:
Type of Tour  : Trek & Walks
Grade : Tough
Maximum Altitude : 4610m/15,125 ft.
Tour Duration : 15 Nights
Trek Duration : 11 Nights/12 Days
Best Season : Mid Sep. – Mid Oct.
Ex-Destination : Chandigarh
Accommodation (Nights) : Hotel – 04, Camping – 11
Food Plan : Solang – Breakfast & Dinner basis; Mandi – Bed only basis; On the Trek – All meals included.
Travel & Transport : Transfers and sightseeing in SUV/MUV
The tour package inclusions and exclusions at a glance
What is included in this tour?
Items that are included in the cost of tour price.
Travel:
Travel as per the itinerary in small vehicles / SUV / MUV.
Others:
Complimentary Duffel Bag, Sack & Cap.
Permit fees
Local guide for walks in Solang.
Necessary porterage and camping equipment for the trek.
Local guide on the trek.
Whats not included in this tour?
Items that are not included in the cost of tour price.
Goods & Service Tax as applicable.
Travel to and from Chandigarh
Any expenses of personal nature such as mineral water, laundry, liquor, etc.
Any kind of insurance, such as accident, theft, medical, evacuation, etc.
Tips to helper, camping team, driver, guide, etc.
Any extra costs incurred due to extension/change of the itinerary because of natural calamities, flight delays, road blocks, vehicle breakdown etc. factors beyond the control of "Countryside Adventure Holidays Pvt. Ltd." and its associates.
Items not specified in the above in "Cost Includes"
We can customize a similar tour to suit your requirements or if you are an independent traveller you can check our Countryside Fixed Departures.
Day 1

Arrival in Chandigarh; Drive to Mandi (205 km; 6 hrs)

We assemble at Chandigarh Domestic Airport/Railway station around 1 pm in the afternoon and load our luggage into our respective vehicles and immediately proceed to Mandi. The journey for the first bit up to Kiratpur is on the plains. At Swarghat we cross over from Punjab to Himachal Pradesh. Soon the winding mountain roads start and we enjoy the changing scenery as plains give way to mountains. We drive along the river getting deeper and deeper into the mountain. Overnight stay at hotel in Mandi.

Note: If you wish to come to Manali from Delhi that can be arranged at additional cost.

Day 2

Mandi – Solang (2560m/8400 ft; 124 km; 5 - 6 hrs)

We leave post breakfast and continue our journey. Once we cross Pandoh Dam, the road winds along the River Beas. We soon get fascinating glimpses of the Himalayan range. The drive is beautiful with roads lined with Deodar trees and Apple orchards. We drive on and reach Manali. We further continue our drive to Solang 13 kms ahead. We have an option of doing a small excursion to Anjani Mahadev 45 min. – 1 hrs walk from Solang. Dinner and overnight stay in a hotel in Solang.

Day 3

Solang – Acclimatization day; Excursion to Patalsu Base Camp & back (6 - 7 hrs round trip)

Solang village is 30 – 45 min walk/climb one way from Iceland Hotel (Solang). The base of Mt. Patalsu is approx. at a height of 11,500 ft. and another 3 hrs from Solang village. Mt. Patalsu top is 4500m/14,765 ft. Dinner and overnight stay at hotel in Solang.

Day 4

Solang – Manali; Trek to Lamadugh (3292m/10,800 ft; 4 - 5 hrs)

After breakfast we start the trek from Dungri a little ahead of the Hadimba Temple, Manali. Climb through the Deodar forest for 3 km to a rocky outcrop with a view of Manali. Just above this vantage point is a small meadow before a steep 400m ascent through small pastures and conifer and oak forest. The gradient begins to become gentler as you reach the camp in an open glade. Lamadugh is a lovely meadow ringed by Maple, spruce and Oak while stands of Silver Birch are further up in the Hillside. Dinner and overnight stay at camp in Lamadugh.

Day 5

Lamadugh – Khandpara Pass (3870m/12,700 ft) - Riyali Thach (3475m/11,400 ft; 7 - 8 hrs)

Now the trail ascends, through the ridge below Tanpari Tibba. There are uninterrupted views north towards the Solang and Rohtang Valleys. The ascent is long, gradual and exhilarating, with views opening across to the Hampta Valley and Deo Tibba. After 4 – 5 hours you reach the highest of the ridge, from there the trail heads south across a series of verdant ridges. A long descent follows, reaching an intermediate valley and a prominent side of trail. From this point, a gradual traverse of 2 – 3 km leads from a small oak forest to the meadow known locally as Riyali. Dinner and overnight stay at camp in Riyali Thach.

Day 6

Riyali Thach – Kalihani Base Camp (4023m/13,200 ft; 5 hrs)

The trail winds above the upper river course before gradually descending to the valley floor. After about 2 hrs, you cross a small stream and climb a series of grassy ridges and pass a number of shepherd encampments. There are fine views east towards the Chanderkhani Pass and the peaks of the Himalaya Range. Dinner and overnight stay at camp in base of Kalihani.

Day 7

Base Camp – Kalihani Pass (4797m/15,740 ft) – Dhanku Thach (3500m/11,484 ft; 8 - 9 hrs)

The landscape slowly begins to change as the meadows give way to rocky back ground with patches of snow. It is a steep, long pull up to the top of the pass. Across the broad glacier and down the moraine and the valley we camp by a stream. Dinner and overnight stay at camp in Dhanku Thach.

Day8

Dhanku Thach – Lamba Parao (3150m/10,335 ft; 4 hrs)

There is an option of trekking through the trail that leads down into the shepherd's valley and following the stream after crossing the bridge takes us to our camp.

OR

A long traverse on the ridge along the main stream with ups and downs. Include crossing of some small glacial streams. Dinner and overnight stay at camp in Lamba Parao.

Day9

Lamba Parao – Dadh Marhi (3550m/11,648 ft; 5 hrs)

A downhill traverse across loose rocks and boulders for 2 hrs. Then a climb for ½ hour, crossing a stream and further ½ hour of uphill walk. After this it is an easy walk to the camp in a lovely grass meadow. Dinner and overnight stay at camp in Dadh Marhi.

Day10

Dadh Marhi – Bara Bhangal (2350m/7710 ft; 7 hrs)

Similar terrain as the previous day, along the side of the hill looking out across the valley. Finally, a long and gradual descent leads to the village of Bara Bhangal. The trail takes you through a forest of silver birch, rhododendron and blue pine. The final 500 m to 600 m descent is steep and dusty. Dinner and overnight stay at camp in Bara Bhangal.

Day11

Bara Bhangal - Rest Day

We spend the day at Bara Bhangal. Resting, walking around, enjoying the views and the rhododendron trees. Dinner and overnight stay at camp in Bara Bhangal.

Day12

Bara Bhangal - Madh (3750m/12,304 ft; 6 - 7 hrs)

Cross the bridge over the river flowing from the Kalihani pass and commence a steep 400m ascent. Continue for 3 km to a broad glacial valley before crossing to the right. There follows a gradual ascent across open meadows and steep slopes. Ascend the trail to the right of the waterfall before crossing the river to a series of meadows referred to as Madh. There are fine views of Mani Mahesh Kailash and the impressive Pir Panjal Range. Dinner and overnight stay at camp in Madh.

Day13

Madh - Thamsar Pass (4380m/14,370 ft.) - Panhartu (3390m/11,122 ft.; 7 - 8 hrs)

The trail gradually climbs up the valley, passing a prominent side valley and glacier to the east. After 3 to 4 km, we climb steep boulder fields to reach a glacial lake. The trail further winds up above a steep slope and leads to another glacial lake and to the base of the Pass. After crossing the snowfield one leads to a prominent ridgeline – the crest of the Dhaula Dhar Range and the Thamsar Pass. The initial steep descent from the pass reaches a large glacial lake. There follows a steep descent to the meadow at Panhartu. Dinner and overnight stay at camp in Panhartu.

Day14

Panhartu - Raigundha (2400m/7874 ft; 7 hrs)

The trail descends across a series of permanent snow bridges for 2km to 3km to reach a well-defined trail. The trail leads through a mixed forest of rhododendron, spruce and oak down to Palachak (2500m/8202 ft). At Palachak cross the metal Bridge and continue through the forest to reach the fields of corn, bean and potatoes near Raigundha. Dinner and overnight stay at camp in Raigundha.

Day15

Raigundha - Billing/Bir (4/6 hrs); Drive to Mandi (71.8 km; 2 hrs)

From Raigundha, the trail continues on the true right of the Uhi valley through Spruce, Oak and Rhododendron forest. After 4-5 km, the trail heads around contours and Alpine ridges to Billing. A gradual downhill walk of 2 hours from Billing leads to Bir. We further drive from Billing/Bir to Mandi. Overnight stay at hotel in Mandi.

Day16

Mandi – Chandigarh (210 km; 5 - 6 hrs); Final Departure

After breakfast transfer we leave Mandi and retrace the drive through forests following the river out of the mountains. Winding roads take us to the plains and we drive into Chandigarh for our onward journey.

End of arrangements…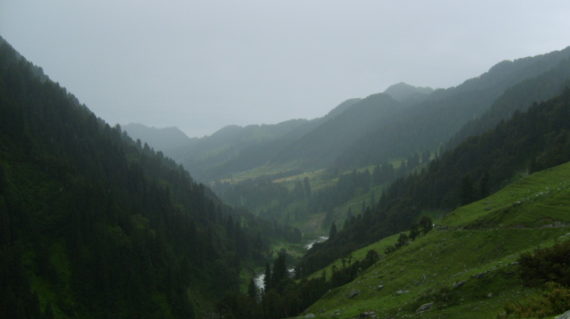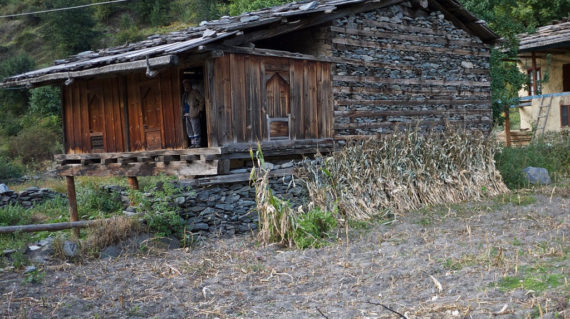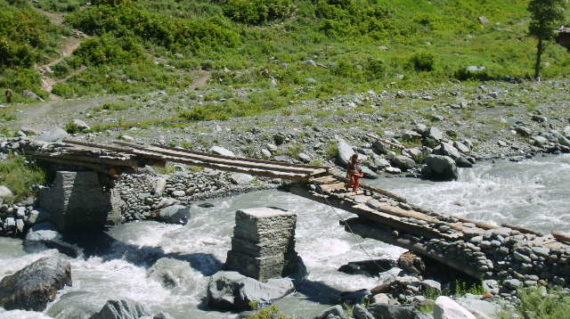 Accommodation:
Solang: In a hotel on twin sharing basis; Breakfast & Dinner basis.
Mandi: In a hotel on twin sharing basis; Bed only basis.
On the Trek: In small camping tents on twin sharing basis; (Meals include: Breakfast, lunch & dinner only).
Minimum 18 years completed.
It's mandatory that all the participants carry a valid photo id., (Driving License, Voter Id., Passport or Adhar Card) for issuance of permits and 02 passport size photographs.
This trek involves walking for 6 – 7 hours daily at an easy pace and on a few days upto 8 – 9 hrs or more; it is recommended for people with an extremely good level of physical fitness. We do not recommend this tour to people with chronic problems like epilepsy and those related to blood pressure or heart.
If the client wishes to hire a porter so that he can walk along with him, then an extra porter can be arranged on the spot for which the client must make an extra payment. The cost for an extra porter is INR 1000/- per day.
Day temperatures average between 10ºC – 20ºC and night temperatures can drop to below 5ºC or at times to sub zero. However the temperatures would vary a lot depending on the season and altitude.
This trek is a high altitude trek and the maximum height gain will be approx. 4797m. Acute mountain sickness (AMS) can be caused due to high altitudes. The AMS may be avoided by taking precautions given in the document attached on high altitudes, please read the document carefully. The high altitude can cause Acute Mountain Sickness and may lead to serious critical medical conditions such as cerebral or pulmonary edema.
The weather can change dramatically causing rain, thunder storm, flash floods, cloud burst, snow fall and severe drop in temperatures, at short notice. This can lead to landslides / road blocks causing delay.
Sleeping bag and Feather jackets can be hired on written request in advance atleast 10 days prior to date of reporting. The same will be provided on arrival at reporting hotel. Rentals for Sleeping Bag & Feather Jacket is INR 100/- per day each plus INR 100/- each for laundry.
The long mountainous journey is very scenic but roads are winding and can be bumpy sometimes. The area is prone to landslides. However the journey is usually safe.