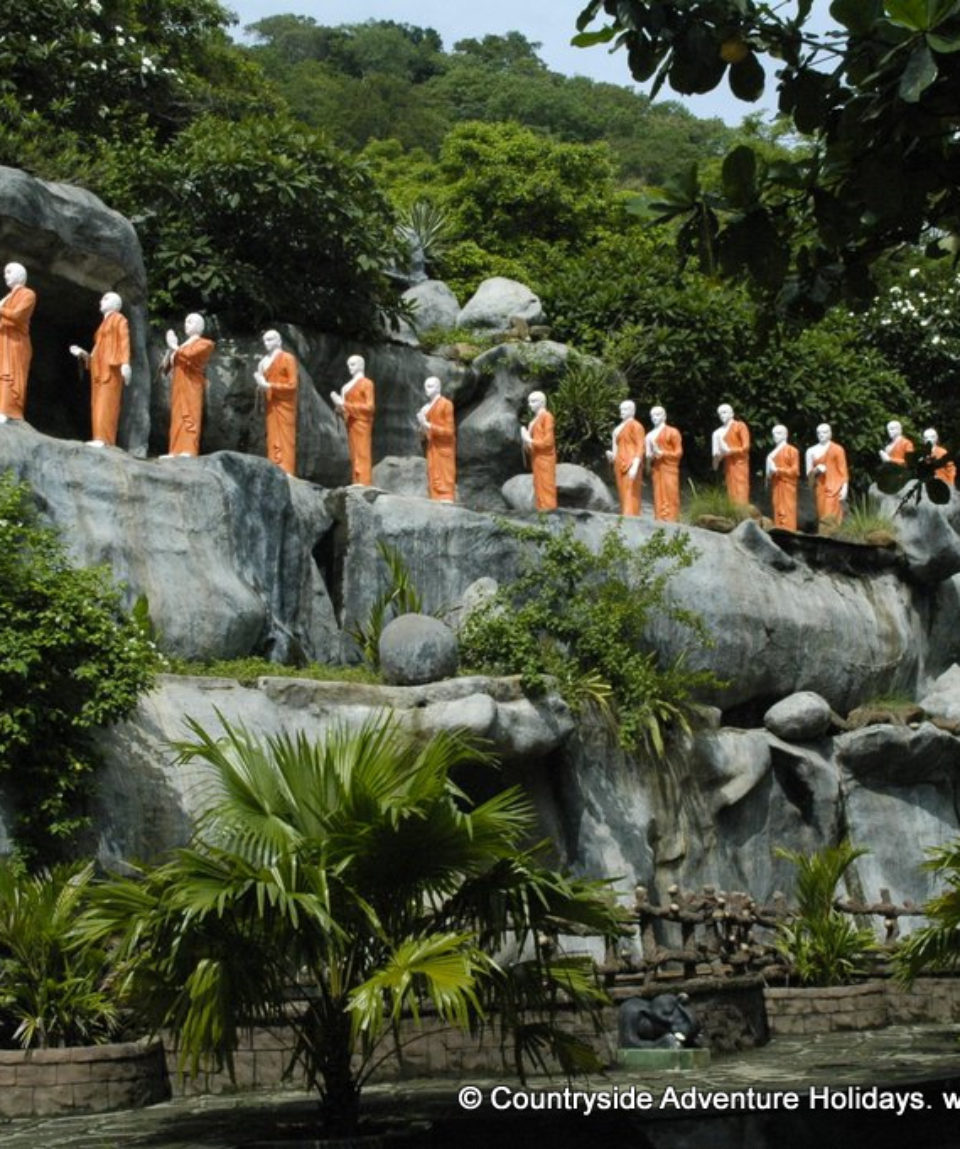 Sri Lankan Heritage
October – March
Sri Lanka is rich in heritage, a lot of ancient cities, temples, caves abound.  World renowned UNESCO sites and beautiful sacred forests and a stunning variety of flora and fauna are all jostling for space.  In our week long trip we start our journey at Colombo and then take in the ancient city of Anuradhapura, Sigiriya, here we spend a day in the forest and visit the Dambulla Caves before heading to Kandy and the Temple of the Tooth Relic.  A tour that will transport you back in space and time…. ageless Sri Lanka at its best!
Vacation Style Holiday Type
All about the Sri Lankan Heritage.
HIGHLIGHTS:
Ancient cities (UNESCO World Heritage sites)/caves and even more ancient, serene lakes.
Beautiful hill stations with Tea Estates on their gentle rolling slopes.
The golden beaches at Negombo.
FACT FILE:
Type of Tour : Road Trip
Grade : Soft+
Tour Duration : 07 Nights
Best Season : Oct. – Mar.
Ex-Destination : Colombo Airport
Accommodation (Nights) : Hotel – 07
Food Plan : Bed & Breakfast basis.
Travel & Transport : Transfers and sightseeing in small vehicle depending on group size.
The tour package inclusions and exclusions at a glance
What is included in this tour?
Items that are included in the cost of tour price.
Travel:
Transfer and sightseeing in small vehicles depending on group size.
Others:
Complimentary Sack & Cap.
Visa fees.
Whats not included in this tour?
Items that are not included in the cost of tour price.
Goods & Service Tax as applicable.
Travel to & from Colombo.
Monument & National Park entry fees.
Any expenses of personal nature such as mineral water, laundry, liquor, etc.
Any kind of insurance such as accident, theft, medical, evacuation, etc.
Tips to hotel staff, driver, guide, etc.
Any extra costs incurred due to extension/change of the itinerary because of natural calamities, flight delays, road blocks, vehicle breakdown etc. factors beyond the control of "Countryside Adventure Holidays Pvt. Ltd." and its associates.
Items not specified in "Cost Includes".
We can customize a similar tour to suit your requirements or if you are an independent traveler you can check our Countryside Fixed Departures.
Day 1

Arrival at Colombo Airport; Proceed to Anuradhapura (183 km; 6-7 hrs)

On arrival at Colombo Airport, we drive to Anuradhapura. We have our breakfast enroute. Anuradhapura is one of the ancient capital cities of Sri Lanka starting from the 4th century BC to the beginning of the 11th century CE. It is famous for its well preserved ruins of Lankan civilization. Overnights stay at a hotel in Anuradhapura.

Day 2

Anuradhapura Sightseeing

Today we explore the city of Anuradhapura, a UNESCO world Heritage site. It is one of the ancient capitals of Sri Lanka (4th century BCE till 11th century CE) and famous for its well preserved ruins of ancient civilization. The city had some of the most complex irrigation systems of the ancient world, situated in the dry zone the administration built many tanks/lakes (wewa) to irrigate the land. The ruins, consists of 3 types of structures: Dagobas or the Stupas, Monastic buildings and Pokunas and the bathing tanks/tanks supplying drinking water. The sacred Bodhi tree here supposedly dates back to 245 BCE. This huge tree has grown from a cutting brought from Bodhgaya in India by Pricess Sangamitta, sister of Mahinda who introduced Buddha's teaching to Sri Lanka. We explore some Dagobas, some Monastic structures and pokunas.

Bodhi Tree Temple – The Bodhi tree is said to be a cutting of the original Bodhi tree under which King Gautama gained enlightenment. 

Ruwanwelisaya Dagoba – one of the oldest and most voluminous, fully restored stupas in Sri Lanka.

Jetavanarama Dagoba – the largest dagoba in Sri Lanka and the third tallest structure in the ancient world (after the Great Pyramids at Giza, in Egypt). 

Brazen Palace – 1600 pillars can be seen today of the once nine-storey monastery. The roof of this structure was covered with bronze tiles then.

One can also see the Moonstones which depicted the movement from the secular to the sacred world.

Overnight stay at hotel in Annuradhapura.

Day 3

Drive to Sigiriya; Visit Sigiriya Rock Fortress (71 km; 2-3 hrs)

Today we move onto the ancient city of Sigiriya (a UNESCO World Heritage site), the so-called 'Fortress in the Sky'. Sigiriya is the hardened magma plug of an extinct volcano that long ago eroded away. It is surrounded by an extensive network of gardens, reservoirs and has some renowned frescoes half-way up the rock face. These frescoes have a close resemblance to some of the paintings seen in the Ajanta cave in India. The Gardens of the Sigiriya city are one of the most important aspects of the site, as it is among the oldest landscaped gardens in the world. The gardens are divided into three distinct but linked forms: water gardens, cave and boulder gardens, and terraced gardens. The Mirror Wall and the Lion Paws are also worth seeing. Sigiriya has a bit of everything to offer to the visitors; history, art, archaeological discoveries, the magnificent views and the continuous expanse of jungle. Overnight stay at a hotel in Sigiriya.

Day 4

Excursions to Minneriya National Park (42 km) & Polonnaruwa (20.5 km) & back to Sigiriya (57 km)

Morning and we are ready to visit the Minneriya National Park. Dominated by the ancient Minneriya Tank this national park has plenty of scrub and light forest to provide shelter for its Purple-faced Langur, Toque Macaque, Sambar Deer, Spotted Deer, Leopard and Sloth Bear. In the dry season some reports account number of elephants on the edges of the reservoir to as high as 150 – 200.

Post lunch we will be visiting the second most ancient of Sri Lanka's kingdom. Polonnaruwa (a UNESCO World Heritage site) remains one of the best planned archaeological relic sites in the country, standing testimony to the discipline and greatness of the Kingdom's first rulers King Parakramabahu-I's reign. Overnights stay at a hotel in Sigiriya.

Day 5

Visit to Dambulla Caves; Drive to Kandy (94 km; 3 hrs)

Today is the day for visiting a few more World Heritage sites. We start with Dambulla Cave Temple. Dating back to the 1st century BC, when King Valagamba, driven out of Anuradhapura, took refuge here. When he regained his throne, he had the interiors of the caves carved into magnificent rock temples. This is the most impressive cave temple in Asia. It has five caves under a vast overhanging rock, carved with a drip line to keep the interiors dry.

If, by now you start feeling that you have seen enough archaeological sites and ancient cities then please don't worry for from here we travel into hilly country crossing tea and spice plantations to reach the Hill station of Kandy to rest for the day. We have lunch enroute. Kandy is one of the most scenic cities in Sri Lanka, surrounding an artificial lake; it is both an administrative and religious city. It is the capital of the Central Province and also of Kandy District. The city is located in between multiple mountain ranges including the Knuckles mountain range and the Hanthana Mountain Range, giving the city an elevation of 500 metres above sea level. Overnights stay in a hotel.

Day 6

Visit The Temple of Tooth Relic; Drive to Negombo (124 km; 4 hrs)

Kandy is the home of The Temple of the Tooth Relic (Sri Dalada Maligawa), one of the most venerable places for the Buddhist community of Sri Lanka and all around the world. It was declared a world heritage site by UNESCO. We start with a visit to this temple in the morning. Post the temple visit we start for Negombo, a beachtown near the former capital of Lanka. Enroute, we visit the Pinnawela Elephant Orphanage. Here we can see the largest herd of captive Asian Elephants in the world. It was established in 1975 on a 25 acre preserve for taking care of orphaned baby elephants found in the wild. Later on in 1982 an elephant breeding program was launched. Here we get to see some 80 plus elephants feeding, bathing, naughty baby elephants playing amongst themselves and at times literally trying to push the visitors around. Overnight stay at hotel in Negombo.

Day 7

Day at leisure

The beachtown of Negombo is a perfect place providing you with a getaway from the hustle-bustle of Colombo. Just relax your souls under the palm trees and enjoy the beautiful sandy beaches of Negombo. Overnight stay at a hotel in Negambo.

Day 8

Drive to Bandarnaike International Airport & final departure (13 km; ½ hr)

Morning drive to Bandarnaike International airport and final departure.

End of Arrangements….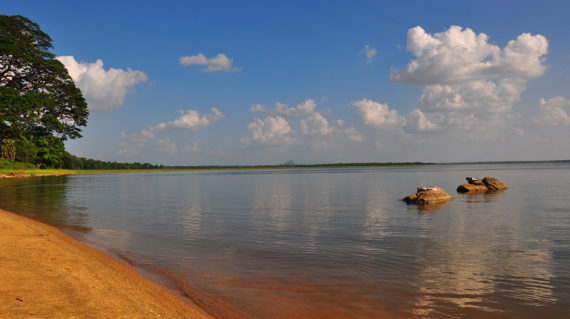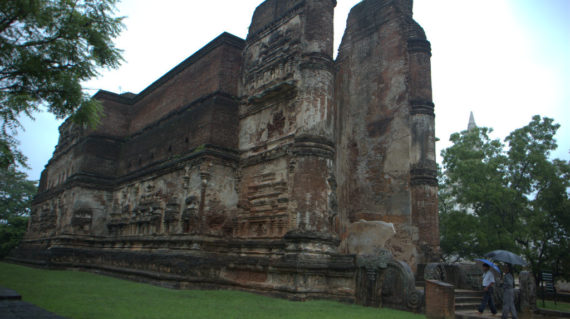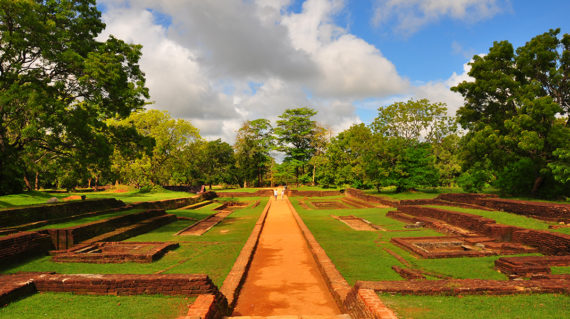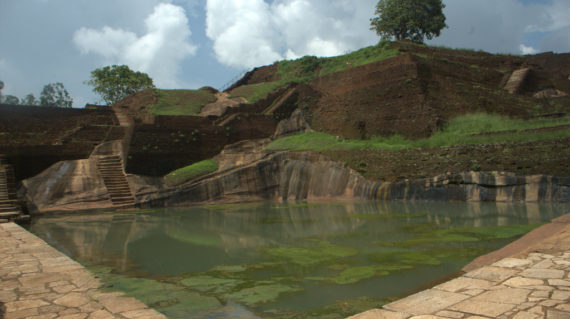 Accommodation & Food:
At all places in a hotel on twin sharing basis; Bed & Breakfast Basis.