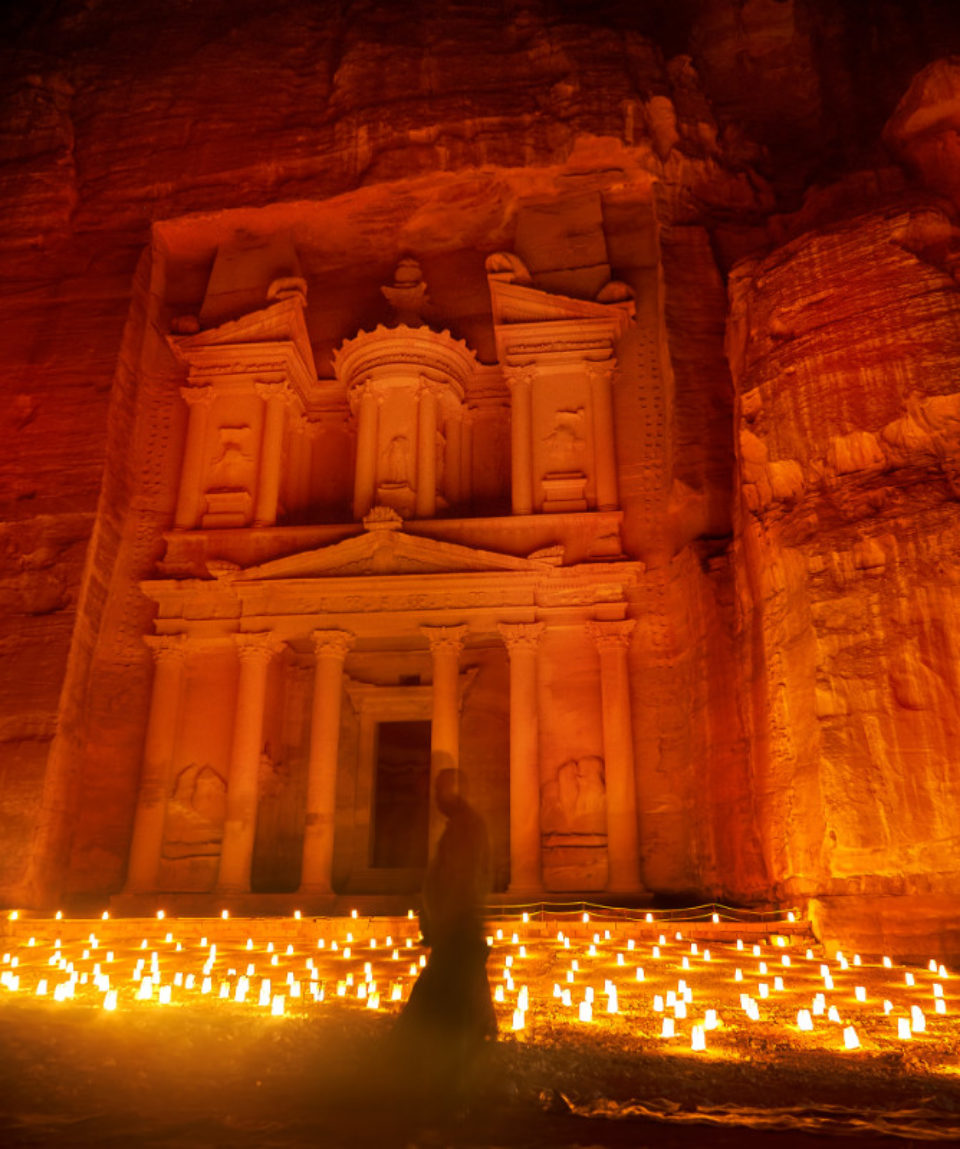 An Adventure in Jordan
April – May & October – November
Starting from USD 1400/- per person.
We start our trip in Amman. A day excursion to Jerash (known as Gerasa during Roman times) one of the best preserved Roman provincial towns in the world. Hidden for centuries in sand before being excavated and restored over the past 70 years, Jerash reveals a fine example of the grand, formal provincial Roman urbanism that is found throughout the Middle East, comprising paved and colonnaded streets, soaring hilltop temples, handsome theatres, spacious public squares and plazas, baths, fountains and city walls pierced by towers and gates.
Dead Sea is the lowest place on earth. Jordan's Dead Sea coast is one of the most spectacular natural and spiritual landscapes in the world.
Wadi Rum, a stupendous, timeless place, virtually untouched by humanity and its destructive forces.
Petra, the world wonder, is without a doubt Jordan's most valuable treasure and greatest tourist attraction. It is a vast, unique city, carved into the sheer rock face by the Nabataeans, an industrious Arab people who settled here more than 2000 years ago.
Vacation Style Holiday Type
All about the An Adventure in Jordan.
HIGHLIGHTS:
Visit Gerasa, one of the best preserved Roman provincial towns in the world.
Experience floating Dead Sea – Lowest point on dry earth, 400m below sea level!
Experience majestic emptiness of thick reddish sand with stark rocky cliffs at Wadi Rum – The Valley of Moon.
Immerse in the remains of 2000 year civilization of Petra (A UNESCO World Heritage site).
FACT FILE:
Type of Tour : Cultural Experience
Grade : Soft+
Tour Duration : 07 Nights
Best Season : Apr – May & Oct. – Nov.
Ex-Destination : Amman
Accommodation (Nights) : Hotels – 06; Campsite – 01
Food Plan : Breakfast & Dinner.
Travel & Transport : Transfers & Sightseeing in A/C vehicles.
The tour package inclusions and exclusions at a glance
What is included in this tour?
Items that are included in the cost of tour price.
Food:
Breakfast & Dinner basis.
Travel:
All transfers & sightseeing in a private A/C vehicle.
Others:
Meet and assist at Queen Alia Airport upon arrival and departure.
English speaking driver cum guide.
Entrance fee to tourist spots.
02 Hours Jeep Ride
Whats not included in this tour?
Items that are not included in the cost of tour price.
Goods and Service Tax as applicable.
International Flights to & fro Amman and international airport tax.
Lunches
Visa
Camera fees.
Meals other than those mentioned in "Cost Includes" above.
Any expenses of personal nature such as mineral water, laundry, liquor, etc.
Any kind of insurance such as accident, theft, medical, evacuation, etc.
Tips to hotel staff, drivers, guides, etc.
Any extra costs incurred due to extension/change of the itinerary because of natural calamities, flight delays, road blocks, vehicle breakdown etc. factors beyond the control of "Countryside Adventure Holidays Pvt. Ltd." and its associates.
Items not specified in the above in "Cost Includes".
Day 1

Arrival in Amman

Arrival:   Welcome to the first day of your Grand Adventure through Jordan! Your tour starts at Amman Airport where you will be met and will be assisted by one of our team who will be waiting for you with signage with your name on it.   After leaving the Airport, our representative will introduce you to your driver to take you to start the city tour of Amman (Citadel, Museum, Amphitheatre and Folklore Museum), and then to your hotel in Amman. Due to the city's modern‐day prosperity and temperate climate, almost half of Jordan's population is concentrated in the Amman area. The residential suburbs consist of mainly tree‐ lined street and avenues flanked by elegant, almost uniformly white houses, in accordance with a municipal law, which states that all buildings must be faced with local stone. The downtown area is much older and more traditional with smaller businesses producing and selling everything from fabulous jewellery to everyday household items. The people of Amman are multi‐ cultural, multi‐denominational, well‐educated and extremely hospitable. They welcome visitors and take pride in showing them around their fascinating and vibrant city.

Overnight stay at hotel in Amman (Standard Rooms).

Day 2

Amman – Day excursion to Jerash

After breakfast you will transfer to Jerash for a visit with local guide at Jerash up to 2 hours, and then transfer back to Amman hotel for overnight.

Jerash: a close second to Petra on the list of favorite destinations in Jordan, the ancient city of Jerash boasts an unbroken chain of human occupation dating back more than 6500 years. Jerash lies on a plain surrounded by hilly wooded areas and fertile basins. Conquered by General Pompey in 63 BC, it came under Roman rule and was one of the ten great Roman cities, the Decapolis League. The city's golden age came under Roman rule, during which time it was known as Gerasa, and the site is now generally acknowledged to be one of the best preserved Roman provincial towns in the world. Hidden for centuries in sand before being excavated and restored over the past 70 years, Jerash reveals a fine example of the grand, formal provincial Roman urbanism that is found throughout the Middle East, comprising paved and colonnaded streets, soaring hilltop temples, handsome theatres, spacious public squares and plazas, baths, fountains and city walls pierced by towers and gates.

Overnight stay at hotel in Amman (Standard Rooms).

Day 3

Amman – Dead Sea

After breakfast you will transfer to Dead Sea hotel for free after noon at leisure & overnight. At 410 meters below sea level, the Dead Sea is the lowest place on earth. Jordan's Dead Sea coast is one of the most spectacular natural and spiritual landscapes in the world and it remains as enticing to international visitors today as it was to kings, emperors, traders, and prophets in antiquity. The main attraction of the Dead Sea is of course the soothing, abnormally salty water itself. The salt content of the water is 31.5% making the water so buoyant that it is impossible for the visitor to sink. The water also contains 21 minerals including high levels of magnesium, sodium, potassium, and bromine and 12 of these minerals are found in no other body of water in the world.

Overnight stay at hotel in Dead Sea (Standard Mountain View Rooms).

Day 4

Dead Sea – Wadi Rum

This morning you will transfer to Wadi Rum, a stupendous, timeless place, virtually untouched by humanity and its destructive forces. Here, it is the weather and winds that have carved the imposing, towering skyscrapers, so elegantly described by T.E. Lawrence as "vast, echoing and god‐like".. A maze of monolithic rock‐scopes rises up from the desert floor to heights of 1750 meters creating a natural challenge for serious mountaineers. Hikers can enjoy the tranquility of the boundless empty spaces; explore the canyons and water holes to discover 4000 year old rock drawings and the many other spectacular treasures this vast wilderness holds in store.

Dinner & overnight stay at Wadi Rum Camp (Standard Tents).

Day 5

Wadi Rum - Bedouin Jeep Tour; Drive to Petra

This morning you will enjoy the 1.5 hour Bedouin Jeep tour inside Wadi Rum, and then transfer to Petra hotel for overnight.

Overnight stay at hotel in Petra (Standard Rooms).

Day 6

Petra – Full Day Sightseeing

This morning you will visit The Red Rose City of Petra. The giant red mountains and vast mausoleums of a departed race have nothing in common with modern civilization, and ask nothing of it except to be appreciated at their true value ‐  as one of the greatest wonders ever wrought by Nature and Man. Although much has been written about Petra, nothing really prepares you for this amazing place. It has to be seen to be believed. Entrance to the city is through the Siq, a narrow gorge, over 1 km in length, which is flanked on either side by soaring, 80 metres high cliffs. Just walking through the Siq is an experience in itself. The colours and formations of the rocks are dazzling. As you reach the end of the Siq you will catch your first glimpse of Al‐Khazneh (Treasury). The Treasury is just the first of the many wonders that make up Petra. You will need at least four or five days to really explore everything here. As you enter the Petra valley you will be overwhelmed by the natural beauty of this place and its outstanding architectural achievements. There are hundreds of elaborate rock‐cut tombs with intricate carvings  ‐  unlike the houses, which were destroyed mostly by earthquakes, the tombs were carved to last throughout the afterlife and 500 have survived, empty but bewitching as you file past their dark openings. Here also is a massive Nabataean‐built, Roman‐style theatre, which could seat 3000 people. There are obelisks, temples, sacrificial altars and colonnaded streets, and high above, overlooking the valley, is the impressive Ad‐Deir Monastery – a flight of 800 rock cut steps takes you there.   Like the "Treasury," the name "Monastery" is a rather inaccurate nickname, which is probably based on its remote location and some inscribed crosses in the interior. Although it may have been later used as a church (or even a hermitage), it was probably a temple. It may have been dedicated to the deified Nabataen king Obodas I, who reigned in the 1st century BC.

Overnight stay at hotel in Petra (Standard Rooms).

Day 7

Petra – Amman; Rest of the Day at Leisure

This morning you will transfer to Amman hotel for free day at leisure. Overnight at Amman Hotel (Standard Rooms).

Day 8

Amman – Final Departure

Breakfast at hotel & Check out, transfer to Amman Airport for Final Departure.

End of arrangements…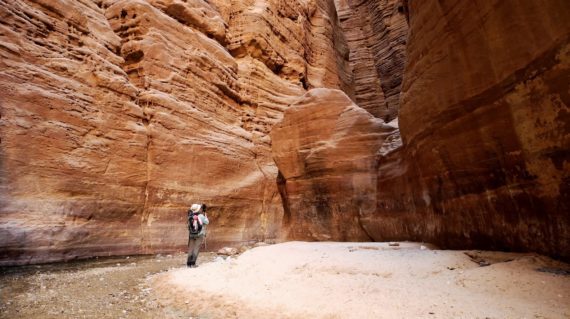 Accommodation:
| | |
| --- | --- |
| Place | Hotel envisaged (4*) or similar |
| Amman | Gerasa Amman Hotel (Standard Rooms) |
| Dead Sea | Ramada Dead Sea Hotel (Standard Rooms) |
| Wadi Rum | Rahayeb Camp (Standard Tents) |
| Petra | P Quattro Petra Hotel (Standard Rooms) |